A Solution For Space Constraints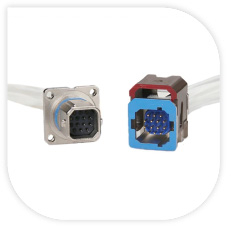 How does QuickFuiso™ and Q-MTitan™ simplify high speed data transfer?
The combination of QuickFusio™ with Q-MTitan™ simplifies high speed data transfer by providing a robust interconnect that allows 12 fiber optic channels to be located within a size 8 Quadrax cavity. As a result, the small form factor addresses both space constraints and the need for higher data throughput.

Why is it relevant to the current market?
The increasing requirement for higher bandwidth within today's aircraft has led to the innovation of denser fiber optic solutions that must meet the rigors of aerospace applications. As a result, higher density fiber optic cables have found their place on the aircraft, leading to a variety of possible architectures that traditionally weren't an option. Most notable are those that incorporate multi-fiber terminations using mechanical transfer (MT) ferrules.
How does it work?
Radiall's Q-MTitan™ contact incorporates an MT ferrule within a size 8 Quadrax contact body. This allows designers to utilize 12 fiber optic channels through a single size 8 Quadrax cavity. Although MT ferrules were not de- signed for harsh aerospace environments, the Q-MTitan™ provides the neces- sary ruggedness to withstand high temperature ranges and vibration levels. In addition, the Q-MTitan's™ scoop proof design aids in ensuring the protection of the optical end face during difficult mating conditions.
How does it help engineers?
Install the Q-MTitan™ within Radiall's QuickFusio™ miniature connector and you have an extremely compact, low weight, and cost competitive high speed data link solution. Using a single size 8 Quadrax cavity prevents the designer from needing a larger connector that would typically contain 12 discrete ter- mini. The QuickFusio™ connector series is designed for cabin and EWIS appli- cations, with performance levels that meet the current demands of the aero- space market. In addition, the Radiall Touch - One Finger Mating Technology - makes mating quick and tool-less.
APPLICATIONS:
Aerospace & other harsh environments
Electrical Wiring Interconnect Systems (EWIS)
Cabin

In-Flight Entertainment (IFE)
Passenger Service Unit (PSU)
Seat Wiring
Lighting

Harness to Harness and Harness to Equipment connections
All applications that require increased density and/or higher number of fiber optic channels

Radars
Displays
In-Flight Entertainment (IFE)

Click to learn more about QuickFusio™.
Click to learn more about Q-MTitan™.