Multi-fiber Optical Link for Space Applications
Radiall's complete optical link is composed of Q-MTitan™ assemblies and HDQX connectors and is qualified for GEO space applications. Q-MTitan is a 12-fiber contact that fits inside the multi-cavity HDQX connector. Together, these products create high density and lightweight optical harnesses that withstand the high levels shock and vibration experienced by communication satellites.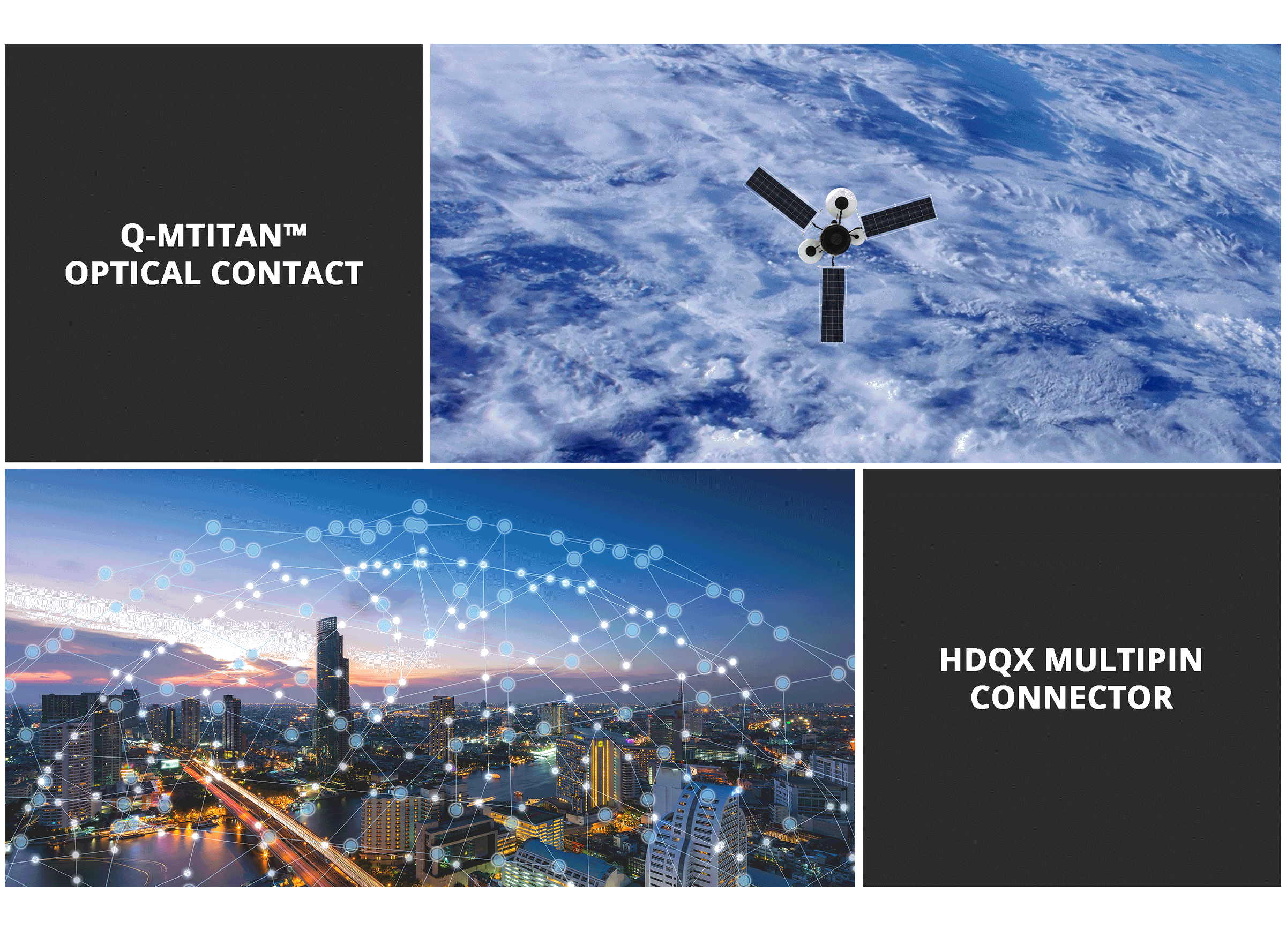 Q-MTitan™ Optical Contact + HDQX Multipin Connector
Satellites now use a new generation of Digital Transparent Processor (DTP) to meet the stringent demands for flexibility. Radiall offers multifiber optical links designed to meet the performance levels for density, ease of installation, weight savings and radiation resistance.
Radiall combines the ruggedized optical contacts (Q-MTitan) with 12 radiation resistant fibers to create full optical link harnesses. HDQX provides a simple way to connect up to 10 multifiber harnesses together in a single panel connector, fully tested and qualified for the severe vibration, shock and temperature cycles expected of space environments.
Q-MTitan is Radiall's high-density and ruggedized optical contact solution, capable of being terminated on round cable or ribbon fibers without needing specific accessories that would increase the overall weight of the solution. In conjunction with HDQX, it offers a secure, reliable and size-optimized solution to connect up to 120 fibers.
Qualification Summary:
Random Vibration: 40 Grms up to 2,000 Hz
Sine Vibration: 20 G up to 100 Hz
Mechanical Shock: 2,000 G; 10,000 Hz
Temp Cycling: -55°C/+125°C; 50 cycles
EMI: SE > 55 dB up to 18 GHz
This opens the road to more and more applications for fiber optics in space environments and justifies new developments for even higher density solutions with 24-fiber Q-MTitan interconnect solutions.
Features & Benefits
Full optical link, qualified for space environments
High density solution
Ruggedized solution that can withstand GEO conditions
Read about this solution for payload data processing.
Learn more about Radiall's Q-MTitan and HDQX solutions.
If you have questions about these solutions or would like to request a custom solution, book a virtual meeting with one of our experts today.