TNC Self Lock Plug Simplifies Installation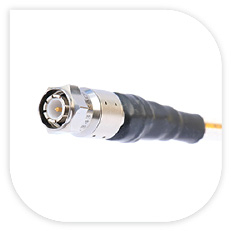 How does Radiall's TNC Lock Plug simplify installation in harsh environments?
TNC Self Lock Plug saves installation time aboard the aircraft by eliminating the need for extra lock wiring steps at install, instead it uses a proprietary self-locking coupling nut that can be tightened by hand. The only tool needed is optional, and it is a standard torque wrench. On average, installation time goes from 3-5 minutes (or more for difficult to reach installations) with traditional lock wire to only 15-20 seconds!
In addition to being self-locking, it is totally sealed, lightweight, qualified to aerospace environmental / performance standards, and is compatible with existing TNC receptacles on the airframe, making it an easy "drop in" replacement.
Why is it relevant to the current market?
Increased production volumes for airframes are requiring all installation processes to be as efficient as possible without sacrificing critical performance to do so. TNC Self Lock Plug's excellent performance and ease of ownership meets the increasingly complex demands of the industry.
How does it work?
The self-locking mechanism comes from a Radiall proprietary anti-rotation design of the coupling nut which utilizes internal spring forces to prevent accidental rotation, but can still be tightened by hand. The shape of the nut is weight optimized, but still allows generous grip area for fingers. Sealing is accomplished both at the front and back of the connector with specific O-Rings, either flat or round depending on cable size, meaning adhesive heat shrink sleeves are not required. Finally, it has an improved slotted outer contact with 8 spring fingers instead of the 6 that are on standard TNC's, resulting in better electrical performance and mating reliability.
How does it help engineers?
It is fully compatible with ALL existing standard TNC receptacles and jacks per MIL-STD-348A. It has several options for the rear cable termination using a simple crimping process that accommodates a variety of cable diameters from 0.11 inches to 0.50 inches, with a frequency range of DC-11 GHz. Its sealing has been qualified for altitude immersion at 116mbar according to EIA-364-03C. In other words, it affords engineers flexibility in design that doesn't have to sacrifice performance for ease of use or ownership.
APPLICATIONS:
Fuselage harsh environment disconnects (ie. Crown & Bilge)
Avionics
Countermeasures
Comms
Antennas