Smart I/O Solution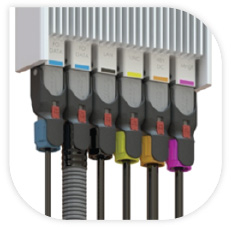 At Radiall, Simplification is our Innovation.

Radiall offers a simple, smart, rugged solution for I/O connections exposed to harsh outdoor environments.
OCTIS™ offers great advantages in terms of density, thermal management, and ease of use. With this unique solution it is also possible to die-cast the mechanical interface into the equipment frame, avoiding the use of a screw-on receptacle.
The OCTIS™ range offers interface options typically used in telecom networks or industrial applications. All versions are available in plug kit versions for manual assembly in the field.
SFP / SFP+
RJ45
DC power with 2 contacts + cable shield grounding
AC power with 3 or 4 contacts
Signal multi-contact with 8 to 12 channels, suited for management ports or ruggedized ethernet
Combo: DC and signal combined into one single interface.
Universal plug: compatible with any pre-mounted cable assembly interface that can fit in a 15 mm diameter. Available in standard size (26 mm pitch) or wide size (41 mm pitch) for larger interfaces like HDMI, D-SUB, MDR
QSFP
Additional versions coming soon