EPX® Simplifies Stock Management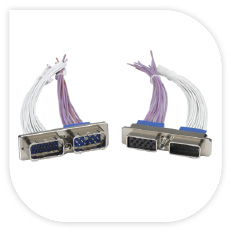 How does EPX® simplify stock management?
Simplification of stock management is derived from the modularity the EPX® connector series provides, meaning the inserts are not fixed within the shell and are removable. Customers can simply order shells, inserts and contacts separately, and build the desired connector to meet the needs of their application. No need to reserve shelf space for connectors that serve one application!
Part number reduction can also be achieved due to the higher contact density EPX® connectors provide when compared to competitors' circular connectors. Using a central locking feature for mating/unmating allows EPX® connectors to be stackable, thus not requiring additional space between connectors for locking and unlocking connectors by hand.
Why is it relevant to the current market?
Increased production volumes place immense pressure on supply chains, while at the same time flexibility needs to be maintained. Reducing the number of different stocked components increases agility and ultimately helps minimize supply chain complexities.
How does it work?
Radiall's EPX® connector series includes shells that can accommodate both disconnect and rack & panel applications. Both shell types utilize the same modular inserts, which are easily installed/removed as required. There are a variety of insert arrangements that accommodate size 5-22 contacts, in addition to ARINC 801 fiber optic termini. The modularity of the series continues with the output of the connector, where a variety of strain reliefs and EMI backshells are also available.
How does it help engineers?
Increased contact density and modularity gained by using EPX® connectors have proven to be powerful attributes for design. Regarding increased contact density, the stackable configuration of the connector shells will allow connector real estate on the panel to be minimized. Modularity will not only provide flexibility during design, but time savings in the wiring workshop and installation within the aircraft.
Radiall has also extended the EPX® range to include composite options for weight optimization and can now offer a bulkhead receptacle to provided panel sealing between pressurized and non-pressurized regions of the aircraft.
APPLICATIONS:
Aerospace & other harsh environments
Disconnect applications
Rack & Panel applications
Electrical Wiring Interconnect Systems (EWIS)
Bulkhead
Galley