Ruggedized, High-Density Optical Contact
That Brings 12 Fibers In a Quadrax Cavity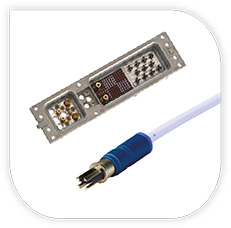 At Radiall, Simplification is our Innovation.

Q-MTitan™ is the new ARINC 846 standard for multi-fiber connectivity in aerospace. It is the solution for applications requiring numerous fibers, high data rate and density. Q-MTitan™ fits in #8 Quadrax cavities of COTS multipin connectors and can be combined with Radiall's transceivers to offer 120 Gbps in a single contact.
Radiall's Q-MTitan™ fiber optic contact has been officially approved as the base design for the aerospace industry standard ARINC 846. Q-MTitan™ incorporates and protects the widely-used MT ferrule, ensuring the mating of 12 optical fibers, and achieves excellent optical performance in harsh environments.
Fielded with ribbon fibers or round multi-fiber cables such as ARINC 802 (annex K), Q-MTitan™ offers a dense, robust and cost-effective per optical channel solution. It is used in situations requiring optical transmission in demanding environments, focusing on applications that combine a need for numerous fibers (or a high data rate) and a need for density, such as radars, IFE (in-flight entertainment), cockpit displays and much more.
Q-MTitan™ has been designed for use in the existing #8 Quadrax cavities of off-the-shelf multipin connectors, such as:
MIL-DTL-38999
Quick Fusio
EN4165 ARINC809
ARINC 600 NSX, MPX, DSX - HDQX
EN4644 EPX
Radiall's Q-MTitan™ contacts have passed full qualification tests inside MIL-DTL-38999 connectors, EN4165 connectors and now ARINC 600 NSX connectors. We are ready to use Q-MTitan™ to support our customers with the design and delivery of optical links.
The design of the Q-MTitan™ range simplifies integration for customers and is supported by installation/maintenance kits and fiber management solutions.
Key benefits:
Modular: Fits in existing Quadrax cavities of COTS connectors
High Density: 12 optical channels in 1 single optical contact
Ruggedized: Optical contacts qualified on multi-fiber aerospace grade cable