MPX: Ruggedized Rack & Panel Connector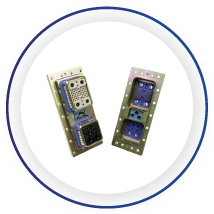 At Radiall, Simplification is our Innovation.

Radiall's MPX series is a low insertion force, high density rectangular connector that complies with MIL-DTL-83527 B and AECMA EN 3682 standards. It is the only standardized rack and panel solution for harsh environments.
Machined out of aluminum alloy, the MPX series offers a high level of performance to cope with the demanding environmental conditions that military applications experience. Thanks to its shell plating, it can withstand severe corrosion exposure.
With three different shell formats that hold 2, 4 or 6 inserts, the MPX series is compatible with a wide range of equipment sizes when space and accessibility are limited.
Interfacial seal, rear grommet and o-ring insert options guarantee sealing performance and a high level of reliability in the field. The broad range of available inserts are optimized in density to receive either signal, power, quadrax, triax, coax, optical contacts or a mix of these. Radiall creates custom insert combinations to fit customers' specific needs and satisfy the increasing demand for electrical power.
FEATURED BENEFITS
Compliant with MIL-DTL-83527 B and AECMA EN 3682 standards
Temperature range: -65° C (-85° F) to +150° C (+302° F)
Salt spray: 500 hours
Altitude immersion: 3 cycles at 50,000 feet
Mating and unmating: 500 cycles
Wide range of inserts for signal, power, quadrax, triax, coax and optical contacts (Arinc 801 - Luxcis and Arinc 846 - multifiber Q-MTitan)
Custom MPX designs (shells, insert patterns) to perfectly fit to customer needs
APPLICATIONS
Avionic bays on military airplanes and helicopters
Airframe equipment (radios, radar, calculators)
Ground military vehicles