OCTIS™ Compact Outdoor I/O Connection System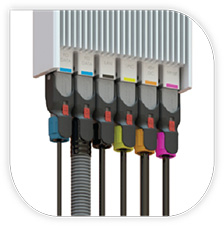 At Radiall, Simplification is our Innovation.

OCTIS™ is a turnkey connection system for outdoor equipment such as remote radio heads, small cells, microcells, DAS and more. It is the most compact solution available on the market today. OCTIS™ is a unique solution that contains all of the standard connection interfaces used on telecom equipment such as optical connections, SFP/QSFP, RJ45, AC/DC power and multipin.
The OCTIS™ ruggedized design complies to the most severe environmental specifications of new 4.5G and 5G equipment. It also provides optimum electromagnetic shielding effectiveness and very reliable heat dissipation when used with an SFP or QSFP transceiver.
OCTIS™ is the most compact connection system available on the market for outdoor equipment. The OCTIS™ connection channels are designed with an incredibly small pitch of 26 mm, with each plug being in direct contact with each other. This exceptional density makes OCTIS™ an ideal solution for small cells, microcells or any kind of miniaturized equipment which contains a multitude of connectors in a small space.
This specific connection panel arrangement is a turnkey design which can be easily implemented into the frame of new equipment. The integration of OCTIS™ into the equipment is so effective and cost efficient that it is not necessary to use a receptacle! Instead, the female interface is replaced by a simple shape which can be die-casted directly into the equipment frame.
The OCTIS™ range contains an extensive variety of interfaces such as fiber optic, SFP, QSFP, RJ45, ruggedized multi-contact signal, power with 2, 3 or 4 pins, and hybrid including both power and signal contacts. There are even "universal" versions available which can be installed on any cable assembly with a interface that fits through the 16 mm hole of the cable gland; for example USB, Mini-USB, RJ45, MPO, LC Duplex, SC, and many other types of small power or multipin contact blocks.
The OCTIS™ system was designed to survive and function in the most severe environments with a targeted lifespan of 20 years. Features such as durable EMI shielding, water and dust tightness and resistance to corrosion, UV light, mechanical abuses and lightning strikes are validated according to the highest standards of the telecom and industrial markets.
Last but not least, OCTIS™ massively improves the thermal dissipation of SFP or QSFP transceivers. Rather than having the SFP module located on the equipment and transferring heat to the inner cavity, it is now possible to fit it inside the OCTIS™ plug. This creates an efficient thermal path to the equipment chassis and eliminates the risk of damaging the optical fiber during installation.