V-Band: Simplifying Integration
The use of large scale solutions with our technology in the telecom industry is simply inspiring.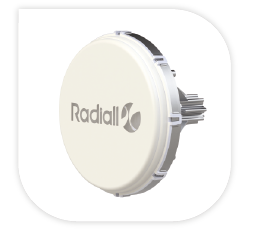 V-Band mmWave Antenna (57 to 66 GHz)
Designed to be integrated in small cells, backhaul, or fronthaul radio systems, the new V-Band antenna simplifies this integration by providing a high gain from 57 GHz to 66 GHz in a small form factor.
Radiall's V-Band mmWave antenna is perfectly suited for integration in new telecom systems, where small form factor and high gain are critical. This new solution provides 32 dBi bore sight gain from 57 to 66 GHz coinciding with the normal axis of the antenna. This feature helps to facilitate quick and easy alignment between radio units (optical technology or not), which is mandatory for applications such as small cells, backhaul/fronthaul links and WiGig.
Designed for outdoor installations, the antenna is also tested per IEC 60068-2 environmental standard and is IP67 rated. The electrical design of the product makes it compliant with ETSI class 2.
Featuring unique transmit array technology embedded in the mmWave antenna, this solution allows quick customization of the antenna radiating pattern with a low cost investment. This greatly helps radio manufacturers to easily integrate the antenna into V-Band systems.