QuickFusio™ In-Line Receptacle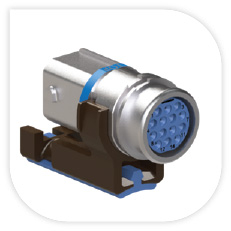 Radiall expands the QuickFusio™ series with a new product offering: QuickFusio™ In-Line receptacle. This new version simplifies secure connection in harness-to-harness applications while bringing time savings and flexibility.
Designed to connect one bundle of cables coming from a main harness to a secondary harness, QuickFusio™ In-Line receptacle provides great installation flexibility. Due to the optimized low round shape of the shell, the connector
can be installed where space is limited. This innovative design combined with a removable cradle that can be fixed anywhere on the bundle makes the installation of the connector quick and easy.
The unique clip-on feature of the cradle provides customers with even more flexibility and time savings in workshops because the plug can be mated and unmated even when the receptacle is still fastened on the harness. This solution also provides time savings because when fixing the cradle on the bundle only one tie wrap needs to be threaded through the dedicated notch for secure fixation.
The use of a second tie-wrap maintaining the receptacle and cradle together
on the bundle prevents chafing under vibrations while the silicon pad on the
cradle protects the bundle from damage. These two features of the QuickFusio™ In-Line receptacle answers aerospace stringent requirements for secure connection.
Offering the same competitive cost, compactness and tool-less benefits as the QuickFusio™ series, this new version perfectly complements the existing range. Mateable with all the other shell types, this new solution reaches the
same level of performance while providing customers with the opportunity to mix and match connectors according to their needs.