Types of Fiber Optic Connectors
In a previous Insights post, we talked about some of the different types of RF connectors. In addition to RF connectors, Radiall designs and manufactures fiber optic connectors; in this Insights post, we'll share about a few popular kinds.
What is a Fiber Optic Connector?
Simply put, a fiber optic connector works in conjunction with optical fibers to transmit information via light. These connectors terminate the ends of optical fiber so that light can pass through quickly and with little interference. Unlike coaxial connectors, fiber optic connectors do not use electricity to send information. (Learn more about fiber optics.) There are many types of fiber optical connectors, but we will provide information on the following: SC, LC, ST and FC. Keep reading to learn about each type.
SC Fiber Optic Connectors
Subscriber (SC) connectors are one of the most common types of fiber optic connectors. They are inexpensive, durable and easy to use. A locking tab keeps this push-pull connector secure. SC connectors have a 2.5 mm ferrule, and they are commonly used in datacom and telecom applications.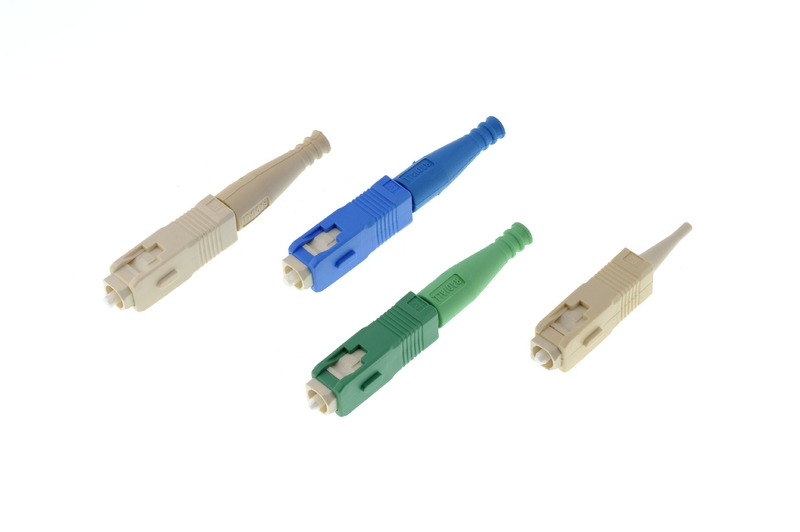 LC Fiber Optic Connectors
Much like the SC connector, Lucent (LC) connectors also feature a push-pull design. Rather than securing itself with a locking tab, an LC connector has a latch to stay secure. At 1.25 mm, its ferrule is half the size of an SC connector's ferrule. LC connectors are commonly used in datacom and Rack & Panel applications.
ST Fiber Optic Connectors
Straight Tip (ST) connectors have a bayonet plug and socket, and they use a half-twist bayonet to secure connections. These fiber optic connectors are ideal for datacom and military applications where the bayonet solution saves time.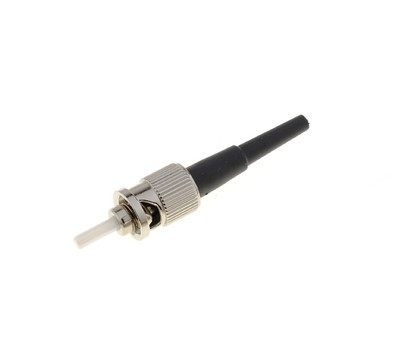 FC Fiber Optic Connectors
Ceramic Ferrule (FC) connectors were the first fiber optic connectors to utilize a ceramic ferrule. It secures connections with a screw-on fitment, which also makes it ideal for high vibration environments and applications where precision is critical. FC connectors require an alignment key for insertion.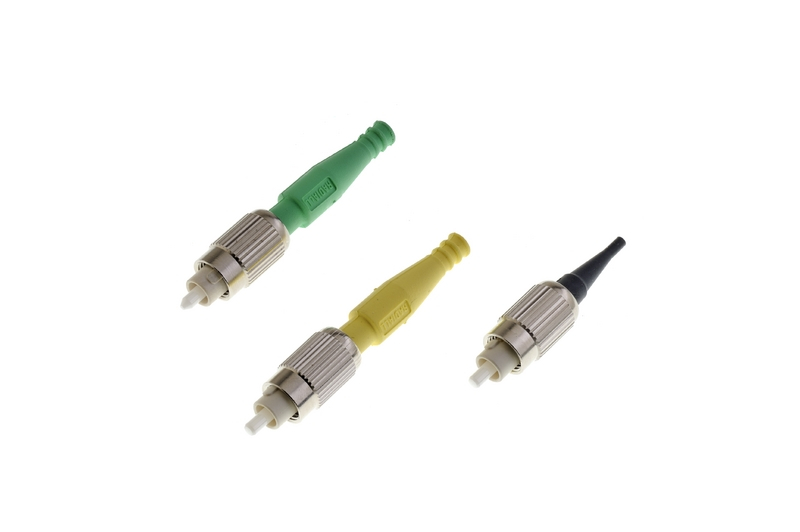 Radiall designs, manufactures and sells SC, LC and ST connectors, cable assemblies and harnesses. Furthermore, Radiall offers advanced versions of these connectors that are suitable for harsh environment mil/aero applications. Check out Radiall's wide range of fiber optic connectors, including tactical, Board-to-Board, high density, hermetic and expanded beam connectors.
We have only touched the tip of the FO connector iceberg in this post, so be sure to contact our team with any questions you may have. As always, we are happy to work with you to design custom solutions to meet the needs of your unique application.