High-density Optical Contact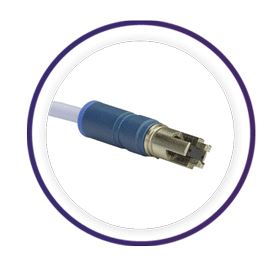 At Radiall, Simplification is our Innovation.
The Q-MTitan™ product range makes it possible to use multi-fiber inside airborne equipment. This parallel optic approach using Q-MTitan™ ARINC 846 fielded with ribbon or multi-fiber cable offers benefits in weight savings, increased bandwidth and optimized installation time.
Q-MTitan™ fits standard size 8 Quadrax cavities, which speeds up and facilitates its integration in existing systems and architectures. Its ruggedized design allows it to operate in harsh environments without any special accessories. The product range also includes solutions to securely route multi-fiber for inside and outside equipment. Our modular and ruggedized splitters fan out round multi-fiber cables into individual channels while still guaranteeing sealing and cable retention.
Designed for high density, high data rate applications, including radar, In-Flight Entertainment (IFE) systems, cockpit displays and calculators, Q-MTitan™ ARINC 846 can be used in a variety of applications. However, it will demonstrate its full capabilities in the harshest environments. Combine this contact with our D-Lightsys® multi-channel transceivers to transmit up to 24x10 Gbps.
Radiall is a unique provider of end-to-end optical interconnect solutions.
FEATURED BENEFITS
High density: 12 or 24 optical channels in a single optical contact
Modular: fits in existing #8 Quadrax cavities of COTS connectors (MIL-DTL-38999, NSX ARINC 600, EN4644 EPX, EN 4165 and QuickFusio™)
Ruggedized: Protects the MT ferrule and maintains excellent performance in harsh environments (-55/+125 °C, Vibration 41.7 Grms, 500 mating cycles, cable retention 68 N on round cable)