Q&A with Aysel
Aysel is a product design engineer at Radiall Chateau Renault. In her role, she meets customers' needs with 3D cable designs for their specifications.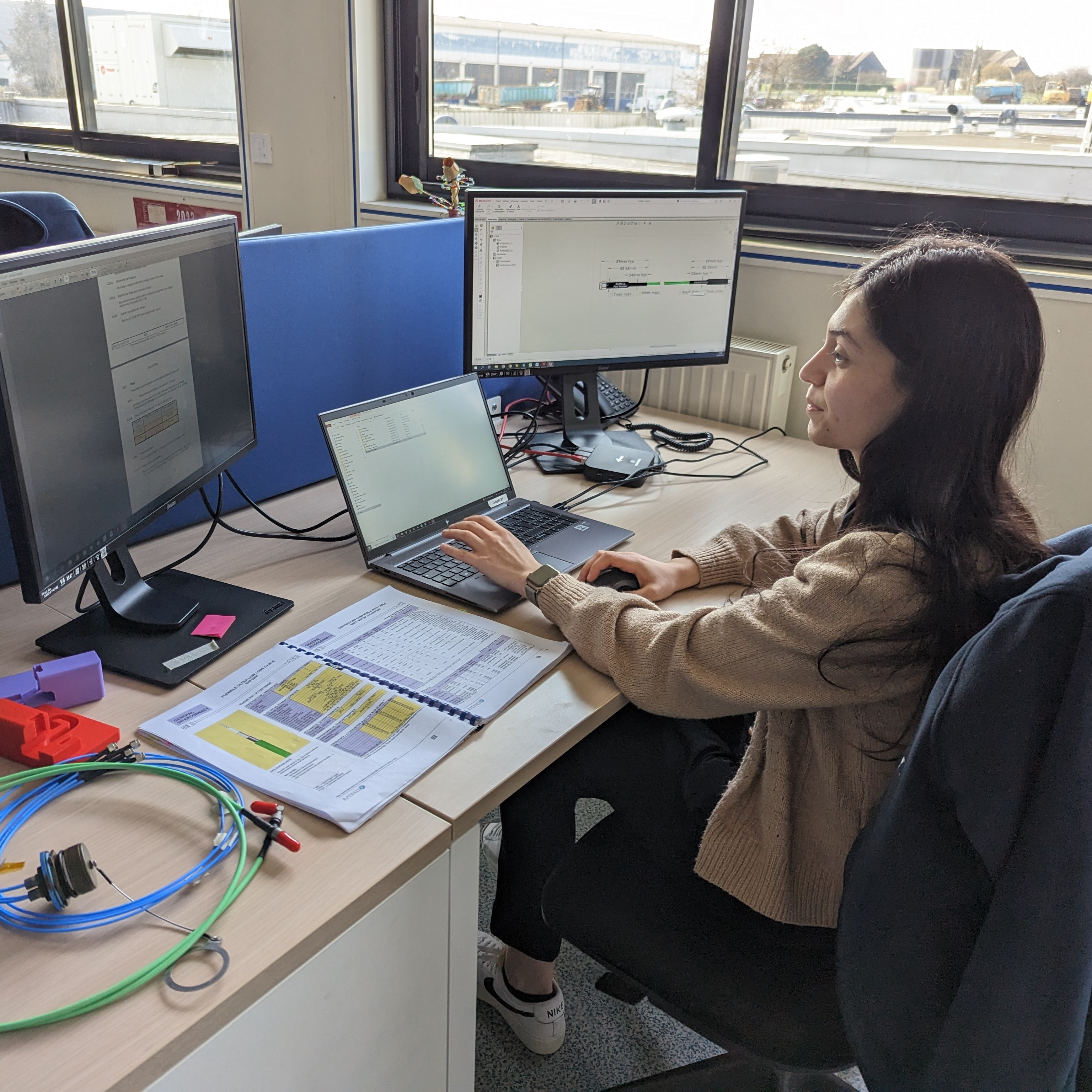 Q.Can you describe your job in a few words? What is your role and what do you enjoy the most in your job?
A.My job as a Product Design Engineer consists of meeting a customer's need by creating a product - in my case a cable - based on the functional criteria indicated in the specifications. As a design guarantor, I imagine innovative solutions, interacting with different teams such as the Research & Development or the Process team. I also propose existing solutions qualified for a specific application, based on our standard products. The cable I design will then be integrated into my customer's final system, for example a radar for the defense market. Even if it is only a small piece of a big puzzle, I know that its impact is necessary for a quality signal transmission between the two elements that it connects.
Q.What inspires you in your professional life?
A.What inspires me about my job is the diversity of my tasks. No two days are alike. Every day I learn a little more, which allows me to re-evaluate myself professionally and identify my strengths.
Q.If you had any advice to give to a future Product & Process Development Engineer, what would it be?
A.For me, the important thing is to connect with your interests, to the essential aspects that make you want to go to work in the morning and accomplish something. Basically, what makes you feel good every day at work.
I think it's also important to set goals that are in line with your aspirations, while asking the "why" of these goals, both in the long and short term.
Finally, the key point, as in many professions, is also to know how to manage your time, as efficiency stems from there.
I would also like to give special advice to women who have chosen this profession, or to those who are still hesitating to choose such a career: be proud to be a woman engineer within a group. You are part of the "rare pearls" of this technical universe. And by your choice, you contribute to breaking the stereotypes and to highlighting the investment that women can bring by the quality of their work.
Q.Where can we find you at the Paris Air Show?
A.This year, Radiall will be exhibiting on Trade Aircraft in the Concorde Hall, where we will be promoting Product and Process Development Engineer positions. Come and meet us to learn more about this role and discover our demonstration of the 3D printer! We will also be present at booth 93 in Hall 2b.
Q.What will be able to discover on the Radiall exhibit at the careers plane?
A.The Radiall exhibit will display our different ranges of cables, both standard and specific, for all fields of application. Through our products, you can discover Radiall's expertise by learning about their design and manufacture.