Optimize Space with GM Connectors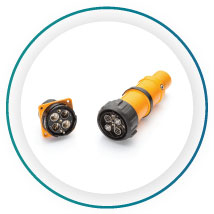 At Radiall, Simplification is our Innovation.
Radiall VanSystem designed GM modular connectors for a variety of applications, such as Ethernet and data transmission, coaxial connections, fiber optics, power cables and signals up to 14 wires. Each module is independent, which eliminates interference and makes it possible to create many combinations of connections while optimizing space.
This product can withstand a variety of environments and stress, making it perfect for vehicles that move on a railway. The GM fully protects connectors through polarization and heavy-duty rubber that covers the coupling nut to prevent incorrect coupling.
With its circular shape, GM can host several modules in a single connector. One GM can replace up to four connectors, giving customers the freedom to try a variety of combinations with different types of coaxial signals and signal qualities.
FEATURED BENEFITS
High-grade efficiency shielding for each module's EMI/RFI protection
Compliant with all requirements of transit applications
Bayonet coupling system, directly derived from the reliable CVBS series, IP67 rating (according to EN 60529)
Rubber-coated coupling nut offers protection against mechanical shocks
Robust, featuring a power modular connection from 7.5 A to 200 A
Wide variety of modules
APPLICATIONS
Trains: passenger controls, displays, Wi-Fi connection, networking, light controls, diagnostic support for brakes, motors and doors
Energy sector: power distribution, utilities, mobile generators, load banks, back-up power systems
Naval sector: military field power
Industrial sector: motor controls, automation installation, medical devices (X-ray scanner)