Quick Multipin Simplifies Wiring Design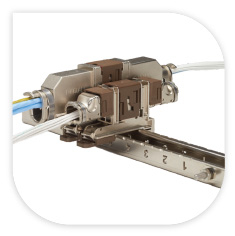 How does QM simplify cable management?
The Quick Multipin connector series simplifies cable management by providing an interconnect solution for aerospace and harsh environments that doesn't require the use of a disconnect panel. In addition, the modularity of the connector's inserts allow terminations to be conducted prior to installation on the aircraft. Combine this with the tool-less functionality of these connectors, and installation time for your application is greatly reduced.
Why is it relevant to the current market?
Modern aircraft contain anywhere between 50 and 300 miles of wire and cable, which must be incorporated within their electrical wiring interconnect system (EWIS). Aircraft manufacturers also make real estate and weight savings a key focus. QM connectors help resolve these requirements by aiding the cable management dictated by EWIS, while still providing a compact and light weight solution.
How does it work?
QM connectors eliminate the need for disconnect panels by mounting onto a conductive rail that is easily integrated into the aircraft structure. The installation process onto the rail requires only seconds to perform and is done without using tools. Mating is also done without tools due to the Radiall Touch – One Finger Mating Technology.
The QM series offers two sizes of nickel plated composite shells, which include an integrated strain relief. EMI backshells and configurations that include grounding blocks are also available. The QM series utilizes the same inserts as Radiall's aerospace proven EPX connector series, offering the same modularity.
How does it help engineers?
Electrical systems & integration engineering will quickly see the flexibility the QM connector series provides. Having the ability to create an in-line disconnect without requiring a panel aids in simplification of the wiring process, not to mention the extensive insert offering helps facilitate I/O requirements. No specific tools or hardware are needed during mating, which greatly reduces install time; but perhaps even more important, the potential for foreign object debris is minimized.
APPLICATIONS:
Aerospace & other harsh environments
Electrical Wiring Interconnect Systems (EWIS)
Cable to Cable In-Line Disconnect