Q&A With Roy
Roy is the Supply Chain Manager at Radiall New Haven. He joined Radiall in 2010 as a Buyer/Planner, became a Planning Manager a few years later, and continues to accept new challenges as they become available.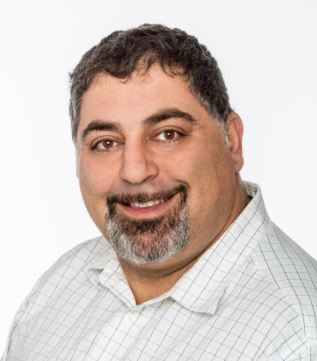 Q.What is a typical day like for you at Radiall?
A.My working day starts when I'm still in bed, because I can't help myself from checking my emails as soon as I turn off my alarm! Once I'm at work, I make sure the North American supply chain is running efficiently. I take care of ordering materials, scheduling production orders and transporting goods from our suppliers, through our plants and to the customers. Because my scope of responsibility connects with many different departments at Radiall, I can expect to do something different every day!
Q.What do you like most about your work?
A.I enjoy the interaction and teamwork required to accomplish a common goal. I've always been an extroverted person who likes to collaborate with others. I'm fortunate that each day I find myself working with a diverse group, whether locally here in New Haven or with colleagues across the globe in France and Mexico.
Q.What is something that you are proud of?
A.When I was only one and a half years old, my father imimgrated to the United States with $100 in his pocket. My mother and I stayed behind in Lebanon, due to visa restrictions. When he arrived, he worked three jobs so that he could save enough money to get us to the United States and away from the civil war. It was two and a half years before we were reunited. As I was growing up, I watched him put himself through college to become an electrical engineer while working a full-time job to support the family. Twenty years later, I found myself doing the same, working full-time at Radiall while completing my MBA at the University of Connecticut. It makes me proud to know that I'm following the steps of my father, always seeking to learn and improve myself.
Q.What's the best advice you have for people wanting to pursue a career in your field?
A.My career path has been interesting since I didn't set out to work in Supply Chain Management. My first job out of high school was in the United States Army! After I completed my 4-year enlistment, I was able to find a temporary job doing data entry for a manufacturing company. The data that I was entering happened to be in their supply chain department. Little by little, I learned about the data, the processes, and eventually the departments with which I was interacting. I was offered a full-time position that led me to where I am today.
My advice to someone new in the supply chain field would be to learn as much as possible first about your position, and then about the areas with which you interact. Also, find a trade organization, such as the Institute of Supply Management (ISM) or the Association for Supply Chain Management (ASCM), and attend their monthly informational seminars to keep up with the latest trends. You can even earn a certification from these organizations by studying for and passing exams dedicated to the Supply Chain field.