Q&A with Manjunath
Manjunath supervises day-to-day production on the shop in Radiall's Bangalore facility. He also plays a key role in the continuous improvement of Radiall's production line through Lean Management.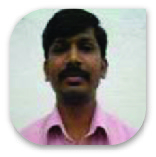 Q.What is your role on the production floor?
A.Today, my job is to ensure our production process adheres to Radiall's quality standards, and that this process is improved on a continuous basis. This is a very challenging task which involves more than supervising the team members. It also involves providing the right information to them, which can contribute to continuous improvement through Lean Management. Plus, there is the added challenge of keeping every member of the team motivated and proud of their daily achievements. We are driven by one key objective: to reduce the PPM (Piece Per Million) which is the number of faulty parts. That's where Lean Management helps.
Q.How does lean management fuel innovation?
A.Our objective is to find ways to increase our productivity and reduce our production costs in order to stay ahead of the competition. To achieve this goal, employee contribution to the innovation process is key. For example, if an operator identifies something that is not working well or could be improved, he can suggest a way of improving the process. That's one of the key points of Lean Management.
Q.How does Radiall's 2025 project fit in this model?
A.Radiall 2025 is a very inspiring project, in the sense that it provides employees with the opportunity to voice how they envision Radiall in the future. It fosters collaboration within the teams, and we all have a lot to learn here too. I hope that this project will help Radiall reach new heights.
Q.What's been your proudest moment in your career?
A.There are lots of things that I am proud of since the start of my career! Every step of my career path at Radiall, from the Fiber Optic Department to the Jumper Cable Assembly line, including the SHF Division and the Microwave Department, means a lot to me. I have really enjoyed working and learning a great deal from my various roles. Also, knowing that people trust me is very rewarding.
Q.What does working at Radiall mean to you?
A.I feel really feel connected to what I do at Radiall. My role is very interesting and always drives me to perform to the best of my ability. Working every day with VNA (Vector Network Analyzer) equipment is top-notch. At Radiall, I can say that I have learned so many different things and have become more versatile. This is not the end. I am deeply convinced that providing the opportunity for employees to upskill, helps them become more committed to their job. Observing my colleagues enjoying their work pleases me. A smile never costs anything and the day seems to go better when you are surrounded by colleagues who are willing to help you. A healthy team spirit and work performance go hand in hand and help us achieve greater things!
Q.What are your hobbies?
A.My hobbies include playing cricket, watching television, and reading books. I like Swami Vivekananda who was a Hindu Monk and disciple of the famous Indian mystic and Bhagavad Gita, which is a 700 verses Hindu scripture in Sanskrit that is a part of the Hindu epic Mahabharat.