Q&A with Nicolas
Nicolas works in supply chain management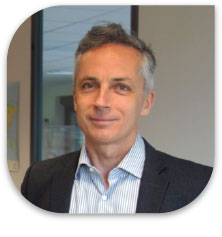 "Supply Chain includes a lot of jobs, and as many expertise. From the sales forecast to distributing our solutions to our customers, including production planning and inventory management, we are at the heart of the company's flows."
Q.Tell us about your background.
A.As an officer in the French Army, I have more than 15 years of experience in operations on the field and in leading tactical research (Army staff). Then I decided to reorient my career towards "civilian" activities. I joined Michelin Tire Company in 2006 in supply chain. I stayed 9 years, working for business units (Supply Chain Manager, Distribution Manager and Demand Manager) and corporate (Group Process Owner) as well, before joining Radiall in June 2016.
Q.Can you describe your current role at Radiall?
A.Within Radiall, I am in charge of making sure that the teams, in operations, have good processes to work with and that the adequate information systems are dedicated to support the teams' work. I also have to make sure the processes are well implemented within the different plants.
Q.What are the biggest opportunities you're seeing for improving Radiall's supply chain operations?
A.In my opinion, the biggest opportunity for improving Radiall's supply chain operations is to continue to reinforce our links with all Radiall's departments, sales and marketing first, but also others such as Cost Control. Supply Chain is not only "planning" activities; Supply Chain is dedicated to on time delivery of our product to our customer.
Q.What's the best advice you have for people wanting to pursue a career in supply chain management?
A.The best advice: be pragmatic and logical, but first be customer oriented. The major skills to work in Supply Chain are a good transversal knowledge of the company organization, a strong level of assertiveness, and a good ability to communicate (including foreign languages). Finally, be agile enough to the versatile environment you have to face.