Products for High Density & Simplified Installation
We're excited to be exhibiting at the Paris Air Show this week. Check out some of the products we're showcasing at our booth. Each of these products contributes to the rate-enabling technology that Radiall is proud to offer. If you're attending the show, come say hi! (Hall 2B Stand D93)
DESIGNED FOR HIGH DENSITY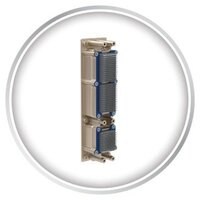 PRESS-FIT CONTACTS FOR NSX ARINC 600
This game-changing solution allows considerable cost savings on both connector and PCB assembly processes. With no trade-off on electrical and mechanical performance, Radiall's #22 Press-Fit contacts offer up to 17% weight reduction on the connector, which is pressed directly on the PCB without being exposed to any thermal stress.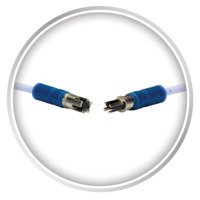 Q-MTITAN™ ARINC 846
Q-MTitan™ ARINC 846 protects an MT ferrule and fits inside size 8 Quadrax cavities to provide high-density optical connectivity in harsh environments. Radiall's MTitan™ series is a complete range of high-density fiber optic interconnect solutions for aerospace and military applications. The Q-MTitan™ is available in several connectors, such as MIL-DTL-38999, ARINC 600 NSX, EN4644 EPX, EN4165 and Quick Fusio™ to maintain performance even in harsh environments.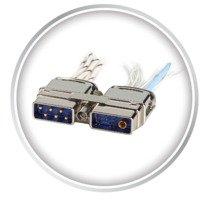 iEPX
To meet the growing demand for a quicker and cost-effective integration, Radiall offers iEPX: a lightweight connector with an integrated strain relief. Radiall expands the EPX™ series by offering iEPX, a new weight-optimized EPXB2 disconnect shell. With an integrated strain relief and EMI backshell to press in, iEPX provides EMI shielding while reducing cost and weight.
DESIGNED TO SIMPLIFY INSTALLATION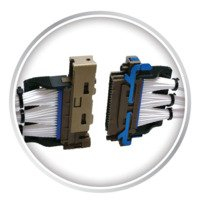 QUICK INSTALL RADIALL
The Quick Install Radiall is a lightweight solution that reduces harness integration time. Focused on innovation, this slim shape connector, suitable to replace EN3545 without any modification to the panel offering, provides high performance, weight reduction and tool-less panel mounting and locking.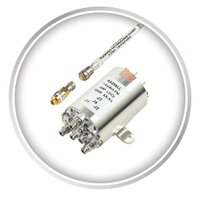 SPACE SMP-LOCK®
The innovative SMP-LOCK® connector features a robust locking mechanism that dramatically increases the retention force of the interface. Radiall's SMP-LOCK® is a high-performance interconnect solution that includes a unique quick-locking system to simplify installation. A perfect alternative for SMA and SMA 2.9, it works up to 40 GHz and avoids the risk of bad connections during integration.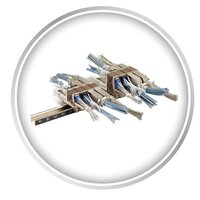 QMB/QMA RAIL
The new QMA model is a cost-effective, tool-less connector that provides instant locking and conductivity and meets today's OEM production rates and reliability needs. One of the key benefits of the connector design is the slide-lock system, which enables easy installation by using fingertips to mate the plug and receptacle shells together in one simple motion.