Connector Solutions for Rolling Stock Applications
The rail rolling stock, new mobility and industrial sectors are seeing a growing demand for high-speed data connections in severe environments. Radiall offers the best data transfer solutions for the harshest conditions by combining its robust GM modular circular connectors with a variety of other interconnect solutions, such as RXF fiber optic connectors, Cat7 EVBS Ethernet connectors and high-speed coax solutions.
GM MODULAR BAYONET CONNECTOR
Radiall's GM connector is an all-in-one solution that can replace several classical connectors in one reduced package. Based on the MIL-DTL-5015 principle and its bayonet coupling system, the GM connector features a key system, rubber and EMI protection, IP67 sealing and shielded cable compatibility. Bogie mounted to withstand vibration and shock, this connector is perfectly suitable for outdoor rail rolling stock applications such as jumpers. It is the ideal solution for managing Train Communication Networks (TCN).
Features & Benefits
Simplification and global cost of ownership savings
All-in-one connector
Simple, unique connection allows several functions in one device
Ideal for harsh environments
Less maintenance required
Durable
IP67 sealing

Withstands high levels of shock and vibration

EMI shielding
Rubber protection
Learn more about Radiall's modular bayonet connectors.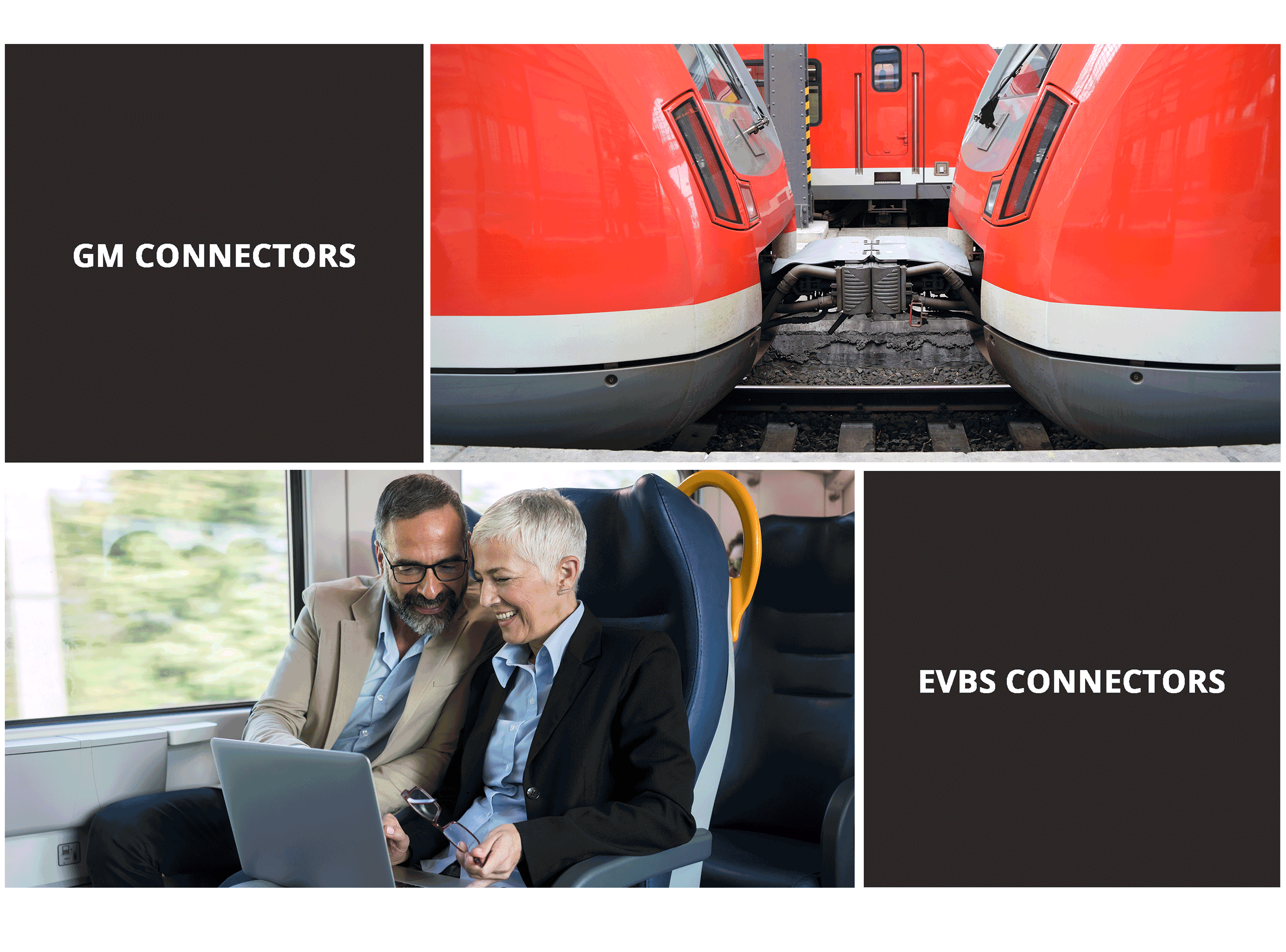 EVBS
EVBS connectors can be paired with Radiall's GM connectors. They offer Ethernet connection and higher data rates (up to CAT 7A), due to their fully independent shielded electrical lines. The EVBS-C7 Ethernet module can be combined with Expanded Beam fiber modules (RXF module), coaxial modules and high power or signal modules (up to 14 wires).
Features & Benefits
Long lifespan in harsh industrial and railway environments
Ideal for indoor and outdoor use
Resistant to dust, water and corrosion
Compatible with high-speed data links up to CAT7A
Learn more about Radiall's EVBS connectors.
If you have questions about these solutions or would like to request a custom solution, book a virtual meeting with one of our experts today.