TestPro 4.2S Cable Assemblies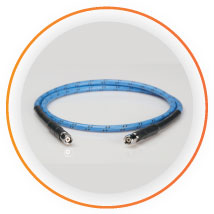 At Radiall, Simplification is our Innovation.
TestPro 4.2S cables and assemblies are flexible, user-friendly solutions that feature a new cable construction with a stranded center conductor and polyurethane jacket. Performances are in line with the high standards of Radiall's existing TestPro range, featuring high phase and amplitude stability with manipulation.
The TestPro product range is dedicated to Test & Measurement applications that require excellent electrical performance, high mechanical endurance and resistance to wear and corrosion. TestPro cable assemblies are suitable for test benches in production or labs because of their long life span and stability. They are intended for daily use in components and assembly shops, test labs and automatic test equipment applications. Unlike standard cable assemblies, TestPro assemblies are specifically designed for applications that require high mating and unmating, strenuous flexing situations and applications where phase, loss and VSWR stability become an issue.
The TestPro cable range benefits from Radiall's 30 years of experience in manufacturing high-tech microwave cables for the military and aerospace markets. Our mastery in high precision, multi-layer braiding and wrapping makes the TestPro cable range stable over thousands of bending life cycles.
FEATURED BENEFITS
Flexible
User-friendly
Robust
Cost-effective