Modular Attenuators up to 150 W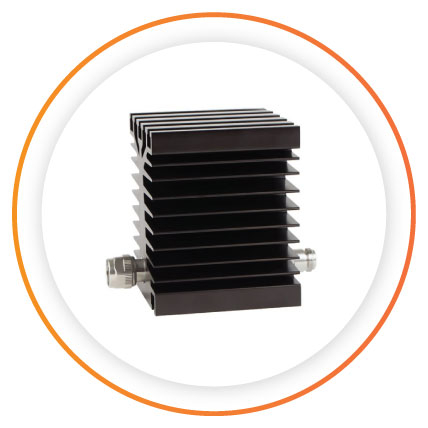 At Radiall, Simplification is our Innovation.
Radiall's range of modular attenuators are available from 30 to 150 W up to 6 GHz with Type N, SMA and TNC connectors. The high power attenuators feature an attenuation range from 3 to 30 dB. This comprehensive offer ensures outstanding performance and quality at a competitive price.
Radiall's improved design concept utilizes aluminum nitride in the resistive circuit. Adding this feature improved the cooling capabilities of the coaxial attenuator's core, which provides better aging performance and increases the device's lifetime and robustness. It also reduces the overall size of the device for applications where form factor is essential.
Moreover, the design concept for this range of attenuators utilizes mechanical force to restrain the ceramic resistance against the module. This solution improves the life performance of the attenuators compared to common solutions that use compound or crimp.
FEATURED BENEFITS
Compatible with several types of connections
Excellent electrical performances up to 6 GHz
Possibility to use up to 150 W
Custom models available upon request
Learn more about Radiall's high power attenuators.
Have questions about our modular attenuators or a different product? Schedule a virtual meeting with a Radiall expert.