Rugged Wireless Network Antennas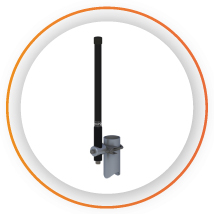 At Radiall, Simplification is our Innovation.
Radiall's new omnidirectional antennas are used for wireless network applications operating in 2.4 and 5 GHz frequency bands. The robustness and high electrical performance of these antennas make them the perfect solution for harsh environmental conditions.
They feature a rugged design suitable for military, industrial or hot spot installation where reliable communication is required. They are resistant to vibration, immersion (IP68), temperature and mechanical shock, which allows them to be used in both fixed and on-the-move applications. Furthermore, they are DC grounded in order to provide ESD protection for radio components.
FEATURED BENEFITS
Outstanding RF performance
IP68 rated
DC grounded radiating element
Tested per MIL-STD-810G
APPLICATIONS
Military and security (fixed and mobile)
Factories and warehouses
Public hot spots
Data collection