Michel Maximilien on 10 Flexible Cables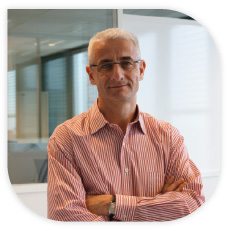 Michel is the Global Product Manager for RF cable assemblies in the RF&I Business Unit. He oversees the development and marketing strategy for test and measurement products including SHF and Test Pro cable and cable assemblies.
At the start of the development process of 10 Ultra Flexible Tracking Cables, we were working to help our customer who needed to connect moving antennas. Our customer wanted to have flexible cable assemblies for a dynamic airborne application in a non-pressurized, harsh environment. The challenging point was developing a cable solution that could withstand a very high flex life (even at ultra low operating T°), and deliver high frequency and electrical stability.
Our team conceptualized the whole link including cable design as well as the innovative connector lock mechanism. Airborne environments are very harsh and challenging due to aircraft safety issues, mechanical stress, etc. Once we understood every constraint, we had to provide a technical answer to comply with the requirements. This led us to develop the "Self Lock" solution to provide a secure connection and a PU cable protective jacket to address cable low stiffness and low flammability.
In the process of designing new cable assembly solutions, I'm tasked along with our R&D department to explore aspects such as phase stability, flexibility, and withstanding harsh environments. High flexibility is one of the main challenges to electrical stability. Our team worked to ensure each component and layer of our tracking cable delivered on the requirements our customer needed. We're proud that this cable will set a new standard for Radiall and will be the cornerstone of a "Flexible Cable" range.
"Fast design and delivery is what our customers appreciate. My first concern is to make our service offer flexible and proactive to adapt to customers' needs." – Michel Maximilien