Ruggedized High Density FO in Quadrax #8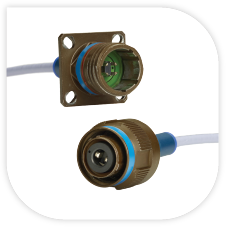 Q-MTitan™ Fiber Optic contact brings multifiber capability through standard #8 Quadrax cavity. The innovative design protects the widely used MT ferrule and provides a sealed and rugged interconnect for harsh environments. It extends Radiall's offering of end-to-end solutions: from active optics to complex optical systems.
This unique series can withstand high temperature ranges and vibration levels, which enables the use of an MT optical ferrule in harsh environments.
Easy retrofit of single size 8 Quadrax cavity into 12 or 24 fiber optic channels
High density optical contact compatible with ribbon and round cable
Protection of the MT ferrule for a ruggedized and sealed optical connection on round cable
User friendly solution: insertion & extraction using size 8 tool
Convenient and efficient visual inspection and cleaning kits available
To meet a wide range of applications, Q-MTitan™ features several versions that fit into size 8 Quadra cavitites for a variety of multipin connectors, including: MIL-DTL-38999, QuickFusio™, NSX ARINC 600, EPX®, EN4165, and EN3545.
While fiber is one of the ways that airlines were able to reduce weight, Q-MTitan™ continues to optimize designs for space and weight considerations. It can be cited as an example of a new, high density product line that brings the ability to increase bandwidth while managing weight.
For aerospace applications, Q-MTitan™ fielded with ribbon fiber or round multi-fiber cable offers a small, lightweight, and cost effective solution per optical channel.