MTitan™: Parallel Fiber Optic For Harsh Environment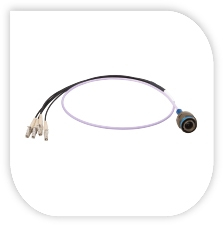 At Radiall, Simplification is our Innovation.

Radiall's MTitan™ series is a complete range of High Density FO interconnect solutions to increase bandwidth while managing weight and space in aerospace and defense applications. MTitan products protect an MT ferrule and enable the mating of 12 optical fibers and transmit up to 12x10 Gb/s.
This rugged solution offers multichannel connectivity in a small package and is available in different product series tailored to the applications:
C-MTitan™ is a tool less disconnect for inside the box applications. At the board level, PCB adapter with C-MTitan can easily be incorporated to create an in-line disconnect. Innovative backplane connectors feed with C-MTitan also demonstrate the full benefits of C-MTitan dual-alignment systems in blind mate conditions.


Q-MTitan™ fits in a size 8 Quadrax cavity for outside the box applications. To meet a wide range of applications, Q-MTitan™ is designed for use in existing Quadrax cavities of most multipin connectors including MIL-DTL-38999, QuickFusio™, NSX ARINC 600, EPX®, EN4165, and EN3545. It enables equipment manufacturer to easily upgrade their system to cope with the increasing demand for higher bandwidth without compromising on space. Q-MTitan™ fielded with ribbon fiber or round multi-fiber cable offers a small, lightweight, and cost effective solution per optical channel.
Products within the MTitan series extends Radiall's capability to provide customers with fiber optic end-to-end solutions: from active optics to complex optical systems. D-Lightsys® multichannel transceivers can be terminated with C-MTitan or Q-MTitan to fulfill high speed data communication requirements.
Benefits:
Withstand high temperatures and vibration levels
High density optical contact compatible with ribbon and round cable
Protection of the MT ferrule for a ruggedized and sealed optical connection on round cable
Easy retrofit of single size 8 Quadrax cavity into multi channels fiber optic with Q-MTitan™
User friendly solution: easy & fast insertion / extraction
Convenient and efficient visual inspection and cleaning kits available
Applications:
Harsh environments: Aerospace, Space, and Defense markets
In Flight Entertainment (IFE)
Cockpit displays
Radars
Backplane applications