Cables & Cable Assemblies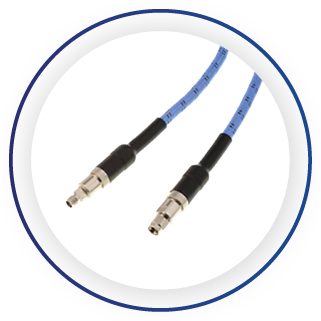 At Radiall, Simplification is our Innovation.

Radiall's range of RF cables and cable assemblies includes ultra low loss, flexible, hand-formable, semi-rigid, corrugated cables and high performance test cables. Each assembly features optimized performances for every application within its own market (Defense, Space, Test & Measurement and Industrial).
There are two main innovations in this range. The TestPro range (TestPro 4.2S, TestPro 3, TestPro 2, TestPro VNA) is the perfect solution for Test & Measurement applications up to 67 GHz where high amplitude and phase stability vs manipulation are required. Secondly, the new ultra low loss, zero halogen range is the perfect solution for shipboard, frigate and submarine applications. It can withstand fire, smoke and toxicity according to IEC 60754 and IEC 61034.
Our cable and cable assembly activities are now combined into one entity, in order to better serve our customers and provide additional flexibility and agility.
APPLICATIONS
Test & Measurement
Frigates
Submarines
Learn more about Radiall's RF cable assemblies.
Do you have a question about a specific cable assembly? Use our new chat feature to ask one of our experts your question in real time. Just click the chat icon to the right!