50 GHz Switches Offer Extension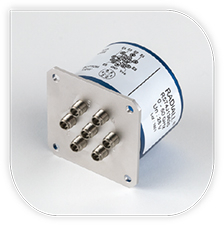 At Radiall, Simplification is our Innovation.

Following the release of SPDT, DPDT, unterminated SP4T & SP6T, Radiall has extended its 50 GHz offer with terminated SP4T & SP6T 2.4mm coaxial switches.
With 4G and 5G development, RF & Microwave applications are requiring more and more products that can operate up to 52 GHz. As an unique manufacturer, Radiall designed an internally terminated model of SP4T & SP6T coaxial switch to complete its 2.4mm coaxial switches offer that can reach such frequencies.
This new switch can be ordered by using the part number R574Jxxxxx.
Featured Benefits:
Operating temperature range: -25⁰C to +70⁰C
Excellent electrical performance
Life span: 2 million cycles
New patented system based on our RAMSES concept
Same electrical length and IL for all RF paths
No equivalent product on the market