Ruggedized Multi-Fiber Solution
Radiall provides connectivity solutions for defense applications that require high density, high data rate and reliability. The Q-MTitanTM ARINC846 is a multi-fiber optical contact that can be used in several connectors, such as MIL-DTL-38999, QuickFusio, EPX and ARINC 600 to maintain excellent optical performance in harsh environments.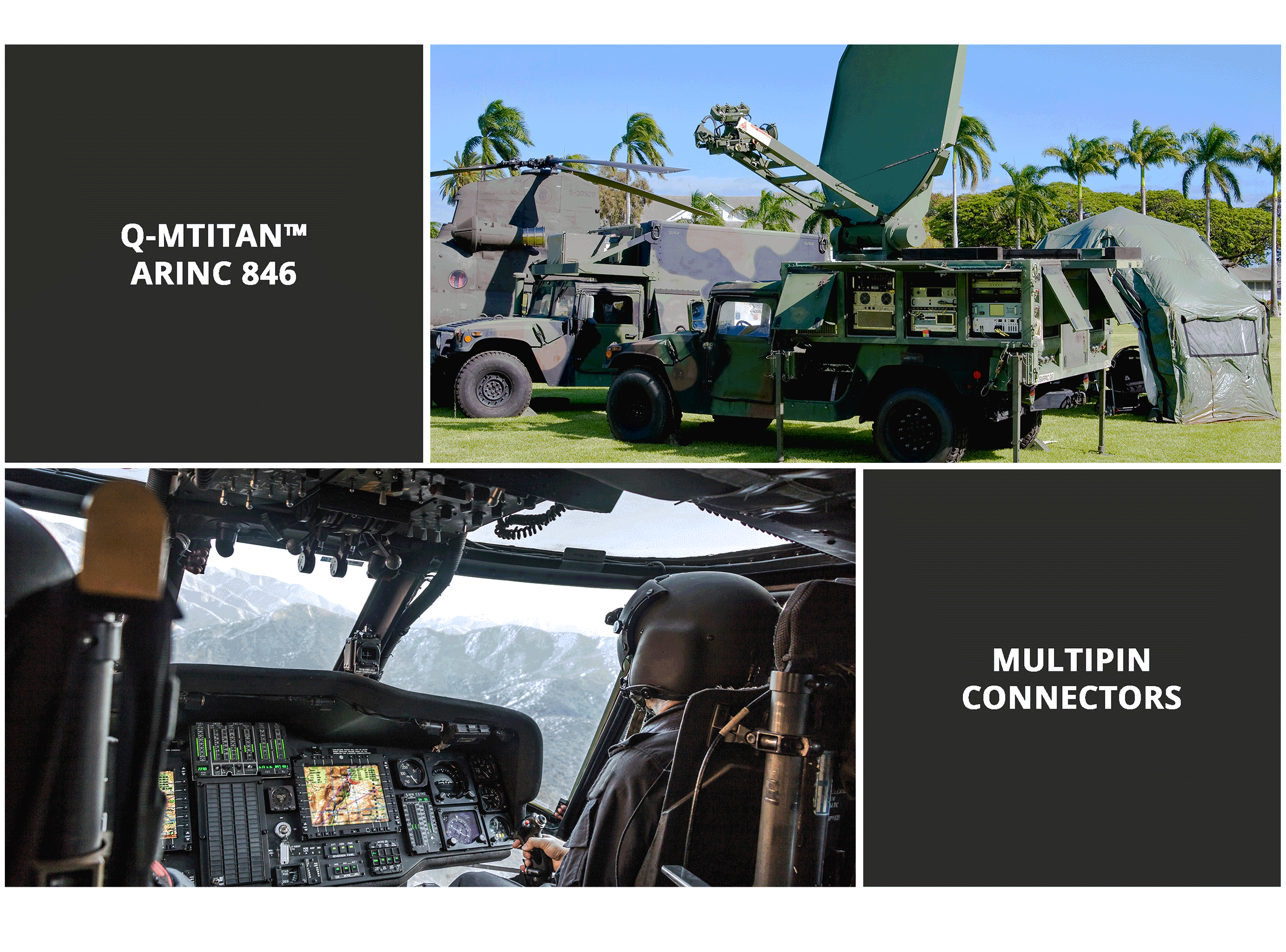 Q-MTitan™ ARINC 846
Designed specifically for high density and high data rate, Q-MTitan ARINC 846 has been qualified to be used in demanding environments. Its design protects a 12 or 24 channel MT ferrule and provides a sealed and rugged solution that fits in a variety of multipin connectors, including 38999, ARINC 600, QuickFusio and EN4644 EPX.

The Q-MTitan contact can be terminated on ruggedized cable for outside applications or ribbon fibers for inside equipment.
Radiall designs and builds harnesses with a variety of interconnect solutions and provides end-to-end solutions for harsh environments. Compatible with a wide variety of connectors and transceivers, Q-MTitanTM provides a minimum of 12 optical channels in a #8 Quadrax contact and can be used with Radiall's 10 Gbps D-Lightsys® transceivers for an impressive data rate of 120 Gbps in a single contact.
Features & Benefits of Q-MTitan ARINC 846
Modular: fits in existing Quadrax cavities of COTS connectors
High density: 12 or 24 optical channels in a single optical contact
Ruggedized: qualified for harsh environments with high levels of shock and vibration (41.7 Grms)
Temperature range: -55 °C to +125 °C
Durability: 500 mating cycles
Cable retention: 68 N on round cable
Read about Radiall's Q-MTitan solutions.
If you have questions about these solutions or would like to request a custom solution, book a virtual meeting with one of our experts today.