Space Grade Multi-fiber Assemblies with Q-MTitan™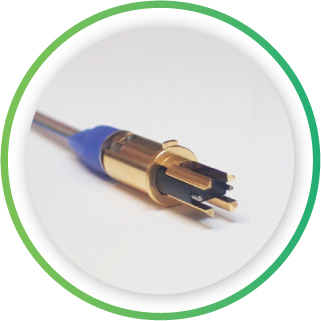 At Radiall, Simplification is our Innovation.

To meet the bandwidth and density requirements of space applications, Radiall offers optical links that combine Q-MTitan™ with radiation resistant fibers and multicavity connectors. The qualified solution enables installers to easily integrate 240 fibers in a single connector.
With over 40 years of experience in fiber optics, Radiall delivers high-quality harnesses and complex optical systems, including active devices, rugged fiber optic interconnect solutions and multipin connectors.
Q-MTitan is a high-density optical interconnect solution that uses one small form factor contact to bring multi-fiber capabilities. Its innovative design protects the widely-used MT ferrule and provides a sealed and rugged interconnect that withstands high temperature ranges, vibration and shock levels. The contact can be terminated on round cable* or ribbon fibers without needing specific accessories that would increase the overall weight. Additionally, this mature contact has demonstrated its performance and value as the baseline for ARINC 846, the standard of the aerospace industry.
The harnesses built with these interconnect solutions and radiation-hardened fibers and cables have been tested and qualified. They have also passed a comprehensive test plan that simulates the operating conditions in space.
*Application dependent. Contact your sales rep for more information.
FEATURED BENEFITS
Lightweight and small design
Material with low outgassing
EMI/EMC compliant
Resistance to radiation
Compliant with high levels of shock and vibration
-55 °C to +125 °C operating temperature range
High optical link budget