Cryogenic SP6T Coaxial Switch
Designed for Extremely Low Temperatures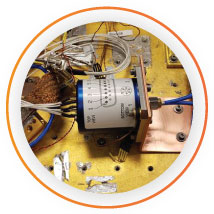 At Radiall, Simplification is our Innovation.

Radiall has developed an SP6T switch specifically for cryogenic applications. It functions at extremely low temperatures in severe environments.
We are proud to announce the development of a new coaxial switch designed for extremely low temperatures. Designed to meet the Test & Measurement community's cryogenic needs, the new SP6T switch is fitted with SMA connectors that can reach a temperature of absolute zero (0 Kelvin / -273 °C). This switch is the perfect solution for a variety of laboratory applications that experience low temperatures. Composed of a harness with a D-sub connector, it can be easily integrated into equipment.
Order the cryogenic SP6T switch using the part number R583423141.
FEATURED BENEFITS
Works in severe environments
Withstands extremely low temperatures (0 Kelvin / -273 °C)
Based on RAMSES concept
Heritage: this switch has already been implemented