High Frequency & Miniaturization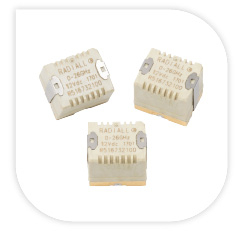 At Radiall, Simplification is our Innovation.

Radiall offers a brand new generation of SMT micro-SPDT relay with performance up to 26.5 GHz. These new relays are perfect for high frequency applications where space is limited.
To overcome the frequency limits of SMT switches, Radiall merged the RAMSES concept with the SLIM LINE technology.
Radiall's new Quartz series is a major evolution when compared to the previous SMT relay:
Higher frequency range
Excellent reliability, hermeticity and thermal resistance
Longer life span (3 million cycles guaranteed, 5 million cycles typical)
High Power: 200W@3 GHz (cold switching)
Test fixtures are available for customer qualifications