High-Performance Railway Connectors
Trains have long been a marvel of industrial innovation. From early steam engine locomotives in the 1800s that traveled only 8 mph to 2022 where high-speed bullet trains can reach up to 370 mph in optimal testing conditions, enormous strides have been made in the railway industry in a relatively short period of time. At the core of technological evolution is the need for improved efficiency, and with that, a need for smaller, lighter and more durable hardware to usher in the railway innovation of the future.
Introducing the PWK Power Connector
The PWK single-pole power connector aims to do just that. Radiall's team of dedicated engineers at VanSystem is continuously working on new innovations to meet the needs of a demanding and evolving industry that requires stable hardware that can withstand harsh environments while maintaining high levels of performance. Noticing a need for a smaller yet still durable connector, the PWK is more compact than the standard connector and it still exceeds standard connector performance. It is designed for outdoor static applications on rolling stock, but will also function well in closed electrical operating areas. Its square flange allows for panel mounting and its 36 polarizations prevent incorrect coupling. 90° plug can be inclined of ±22° reducing the cable bending radius. Contact range is from 35 sqm to 185 sqm.
This small powerhouse is available in a straight or 90° angle construction and by itself without a contact, it weighs in at just 400 grams - 30% lighter than the average connector of its kind. Designed with outdoor applications and harsh environments in mind, the PWK connectors provide a waterproof connection with a rating of IP68 and are dust-proof and corrosion resistant. Their working temperatures are between -55 °C to 125 °C depending on the insert material, but this range is well-suited for their installation on rolling stock.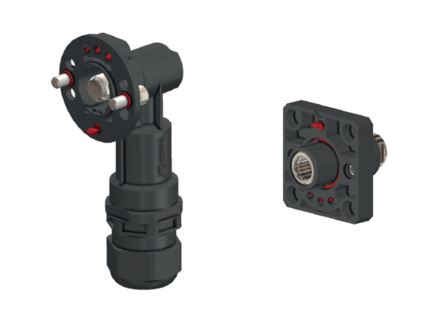 Compliant with the NFPA 130 North America Railway Standard, the PWK provides a robust connection with easy installation. A variety of accessories for fastening cables and other connectors, as well as contact removal tools, are available.
The PWK is only the latest addition to the portfolio of high-performance circular power connectors for railway applications. The current offering contains products such as the RF CVBS and V CVBS which offer a Bayonet locking coupling system and are extremely resistant to vibrations and shocks. The RF version is fire resistant while the V version provides resistance to aging, hydraulic fluids and oils. The RF CVBSG are Bayonet connectors with rubber-covered plug shells that are made to the EN 45545-2 standards and the RF GVJ boasts impact resistance and increased dimensions to accommodate insulators with larger contacts.
To learn more about the PWK power connector series, contact us to speak to one of our experts and learn more about how the PWK can work for you.