SMP-LOCK® Range: Space Applications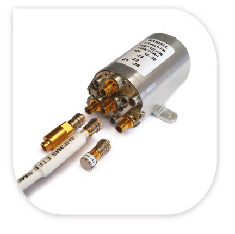 At Radiall, Simplification is our Innovation.

Radiall has expanded its range of RF Passive products equipped with an SMP-LOCK® interface for the Space market. This innovative connector features an easy and robust locking mechanism which dramatically increases the retention force of the interface, prevents accidental disconnection and saves significant integration time.
Radiall's SMP-LOCK® is a high performance interconnect solution at a low cost. This connector is compliant with an SMP interface and includes a unique quick locking system to simplify installation and provide a secure connection. It is a perfect alternative for SMA and SMA2.9 since it can work up to 40 GHz and avoid any risk for poor connections during integration.
Within the space industry, performance, reliability and quality at a reduced cost are required. To meet market demands, Radiall expanded the SMP-LOCK® product offering by qualifying new connector variants, cable assemblies, attenuators, loads and switches according to space environment conditions.
Typical electrical and mechanical characteristics:
DC to 22 GHz
VSWR < 1.2
EMC > 85 dBi
Low power: 2 W
Mating life: >100 cycles
Max temperature range: -65 °C to +165 °C
Random vibration: global overall level up to 50 grms
Mechanical shock: up to 4200g
Designed with venting holes