Earth Day 2020
Today, people everywhere celebrate our planet and the steps we are taking to protect it. At Radiall, we are committed to doing our part in preserving our planet, and our employees around the world contribute to taking care of the Earth every day.
The theme for this year's Earth Day is climate change. If you are reading this, we want to challenge you to join individuals around the world who are working to reverse the climate change our planet is experiencing. You can do this today by not driving your car if you do not need to, turning off lights around the house and using less water when showering, washing dishes or brushing your teeth. Little steps can make a big difference.
Corporate Responsibility
As part of Radiall's Better Connected initiative, we are continually looking for new ways to reduce our carbon footprint, improve energy efficiency, reduce emissions at production sites and encourage initiatives to raise awareness about the environment in our day-to-day actions. Not only do we comply with local environmental laws and regulations, but we also constantly work to improve our products and processes to meet environmental regulations without compromising the quality of our products. When deciding on our sustainability goals, we took all aspects of our operations into account: industrial operations, purchasing, transportation, day-to-day operations, etc. We chose environmentally responsible actions that employees could support as well, and our Destination Green groups provide employees with opportunities to do just that.
Read more about our Corporate Social Responsibility policy.
Small Steps to Impact Our Planet
Here are some of the recent steps Radiall has taken to impact our world and environment for the better.
Reusable Mugs
Since February 2020, our French facilities have started replacing disposable plastic cups for coffee with reusable mugs, which have been provided to all Radiall employees at French facilities. The goal is to reduce the use and consumption of plastic at our sites. The mugs will replace nearly 425,000 plastic cups thrown out every year at our French facilities, which is the equivalent of eight and a half tons of CO2, or the amount used in eight and a half roundtrip flights from New York to Paris.
Recycling
Recycling bins at many of our sites encourage employees to recycle cans, bottles and plastic. In Paris, 29 kg of waste were recycled in just three months. In L'Isle D'Abeau, 55 kg of plastic cups, 24 kg of cans and 28 kg of bottles were recycled in three months. A group of employees in Paris has taken recycling a step further by recycling less common items, such as pens and corks.
Electronic Pay Stubs
Since August 2019, Radiall Shanghai has been distributing electronic pay stubs to reduce the amount of paper being used at their facility.
Glass Bottles
At Radiall Bangalore, employees have started using glass water bottles instead of plastic ones for group meetings. Cutting back on single-use water bottles reduces the amount of energy needed to recycle those bottles.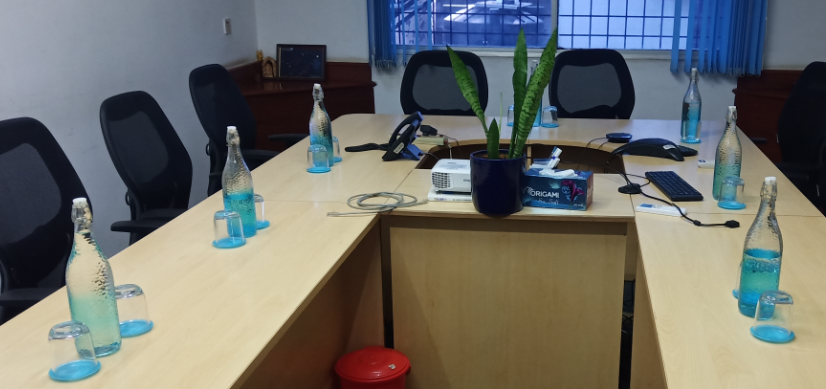 LED Lights
To comply with government regulations, employees from Radiall Netherlands negotiated with their building owners to replace the lights with LED light bulbs. LED lights use 20-80% less energy than traditional light bulbs.
Plants
Since the end of 2018, Radiall Bangalore and L'Isle D'Abeau have started adding life to factory spaces with air-purifying plants. In L'Isle D'Abeau, 80 employees volunteered to "adopt-a-plant." Each volunteer is responsible for taking care of a plant. At Radiall Obregon, a group of employees and their families has set a goal to plant 1,000 trees in their local communities.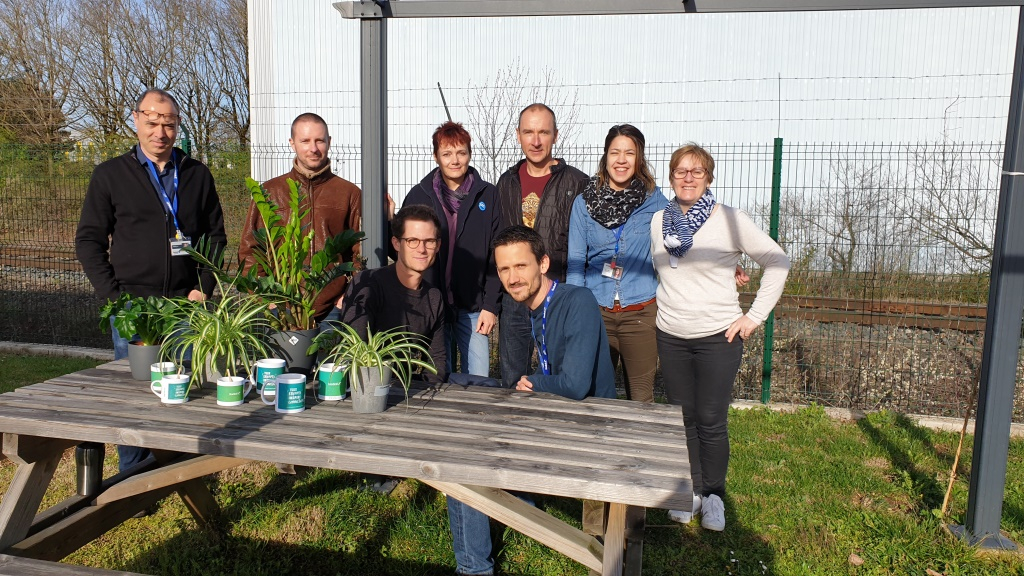 Photo taken in early 2020, before the spread of COVID-19.
Carpooling
In 2018, Radiall Obregon implemented a carpooling initiative to reduce CO2 emissions. Similarly, Radiall L'Isle d'Abeau participates in the regional "Mobility Challenge," a contest that encourages people to bike, walk or carpool to work instead of using individual cars. Electrical outlets for electrical and hybrid vehicles are available to employees at the Château-Renault and Voreppe facilities. Electric bicycles are also available for employees at Radiall's French facilities.
Let's join together and continue taking care of our planet—one day, one reusable mug and one recycling bin at a time.