Digital Ambassadors
In 2015, Radiall employees spearheaded a transformation project known as Radiall 2025. More than 40 facilitators are leading projects on agility, innovation, culture, the factory of the future, and digital technology. The purpose of Radiall 2025 is to champion projects that will enable Radiall to meet the challenges of the future through the implementation of new, innovative practices and cutting-edge capabilities.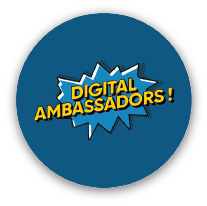 Inspired by the work being done in the digital technology group, we launched a company-wide digital training program called "Digital Ambassadors". Over 70 employees volunteered to serve as "Digital Ambassadors" at our facilities around the world. The ambassadors are conducting local workshops on digital culture and digital practices. As a company, we're looking to better utilize digital tools to simplify workflows and facilitate easier collaboration.
Separated into different modules, the trainings cover digital culture, social media, and Radiall's digital workplace. We're training people on how digital changes impact our work processes and can help accelerate the growth and innovation of our company. Our digital transformation is about simplification, information sharing, and collaboration.
What digital tools do you use? Let us know on Twitter. Use @RadiallGroup to connect with us.