SHF 3 UF: Ultra-flexible ka-band cable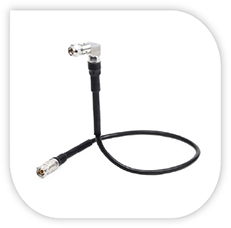 At Radiall, Simplification is our Innovation.

A leader in civil aircraft interconnection and RF cables, Radiall introduces a new cable in response to ARINC 791 and ARINC 792 requirements. This new, ultra-flexible cable is designed for Ku/Ka Satcom systems that require long-lasting solutions and reliability.
SHF3 UF is an ultra-flexible, Ka-band coaxial cable that meets ARINC 791 and ARINC 792 requirements.
Aircraft connectivity is a major topic for all airline companies. Full Satellite Communication systems use fuselage-mount antennas for both Linefit and Retrofit markets. These mechanically-steered antennas are constantly searching for satellites, which means they are always moving. This results in constant solicitation of microwave cables carrying Ka signals. As a result, cable behavior in dynamic bending becomes extremely important.
SHF3 UF is the perfect solution to secure antenna accuracy.
Ultra flexible for long-lasting performance
Ultra flexible for low bending force (#energysaving #weightsaving)
Ultra flexible for electrical stability
Ultra flexible for easy installation
Radiall delivers SHF3 UF cable assemblies with optimized performances in downlink (17.5 - 22 GHz) and uplink (27 - 32 GHz) frequency bands.
Available with SMA 2.9 and SMA 2.9 Self-lock* connectors, SHF3 UF assemblies are designed and proven to withstand the constant pressurization cycles and the harsh SWAMP (Severe Weather and Moisture Prone) environment of the aircraft.
FEATURES
Robust design and construction
Special seals prevent water ingress into the cable and connector
Compatible with OEM and Airframe requirements
Available for multiple airframes
Easy installation and maintenance
*Self-lock connectors eliminate the need for fastidious installation of lock wire, saving time and removing the risk of lock-wire-related FOD (Foreign Object Debris). SMA 2.9 Self-lock plugs are fully compatible with standard SMA 2.9 connectors.