Q&A with Daniel
Daniel joined Radiall Obregon in 2017 as a Quality Engineer in the final asssembly area. He is currently a Supplier Performance Improvement engineer.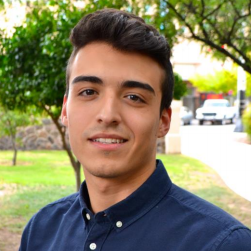 Q.Can you tell us more about your role?
A.Right now, I am working as a Supplier Performance Improvement (SPI) engineer; my main role is to qualify suppliers in compliance with Radiall's quality expectations, as well as improve quality, cost and lead time with current suppliers.
Q.What do you like most about your work?
A.There are two things I like most about my work: first is the constant learning I experience every day. Due to the different technologies used at Radiall, we have a wide diversity of suppliers with particular types of processes. This helps me learn to adapt to every kind of technology and process to better understand it and, in the end, qualify it. The second thing I like most is the relationship with the people, internally and externally. SPI engineers are always in constant communication with our suppliers around the world.
Q.What is a typical day like for you at Radiall?
A.Starting at 7:00am, the first thing I do is open my calendar and start planning my day. I usually have two or four meetings during the day, so I need to have everything ready. During the morning, I also spend time answering emails and doing everything related to supplier followup. At 1:00pm, I go home for lunch to keep my energy up. After lunch, I spend the rest of the afternoon working on transfer projects.
Q.What's the best advice you have for people wanting to pursue a career in your field?
A.Never stop learning; there are endless types of technologies, processes, standards and general information out there, which you can use to improve your knowledge in any field. Every day I read something I did not know before.
Q.What's been one of the proudest moments in your career?
A.The proudest moment in my career was definitely during last summer. I was invited to participate in the 'Connect Together' seminar, which took place in France. Its objective was to introduce Radiall's purpose and discuss how we can initiate a positive transformation around the world. I met lot of my colleagues from different sites, but most importantly, I had the opportunity to hear Pierre Gattaz and Dominique Buttin share 'why' Radiall is doing this. Now my objective is to pass everything I've learned to my colleagues.