Contactless Connectivity to Connect the Future
The future of connectivity is contactless. Contactless connectivity offers a way to transfer power and data through non-metallic walls at a distance of a few centimeters without a physical link.
In 2019, Radiall acquired Solyneo to support the development of contactless technologies. Solyneo specializes in producing efficient and reliable contactless power transmissions for harsh environments.
Contactless Connectivity for a Connected World
Where traditional and physical connectivity has restrictions due to vibration and dust, contactless connectivity provides high reliability. Contactless connectivity allows us to solve interconnection problems such as oxidation that deteriorates or breaks the connection by eliminating physical connectors.
In electronic systems, where connectors can be the primary point of failure due to poor design and mechanical and/or environmental stress, contactless connectivity offers many advantages when high performance is critical. With an increase in automation and the use of more connected electronic systems, contactless connectivity has several advantages: it is more reliable, facilitates maintenance and allows unlimited mating cycles.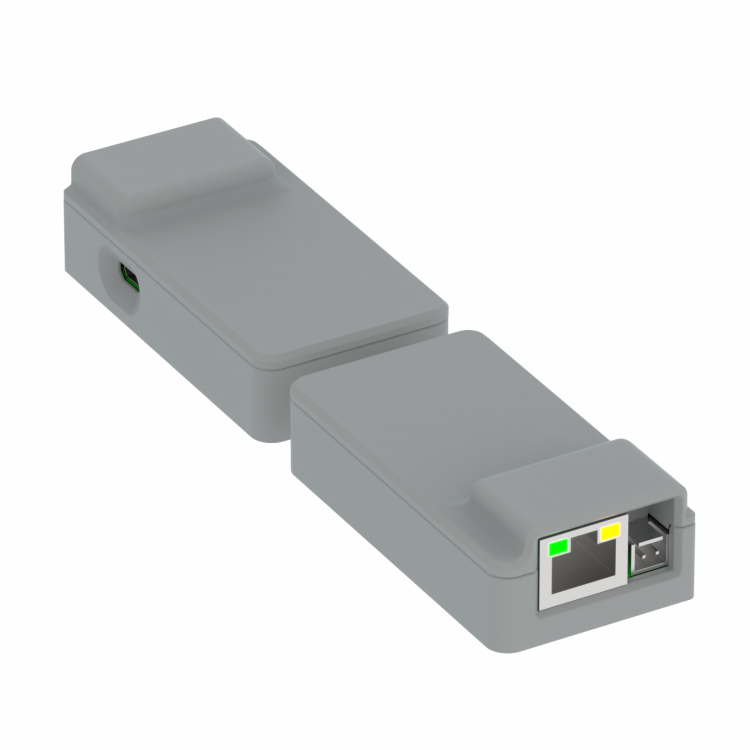 Co60ETH is a new contactless data connector solution that simplifies integration and reduces maintenance time for industrial and medical applications. Co60ETH is an innovation for Industry 4.0, especially for electronic systems operating in harsh environments with mechanical stress. By replacing the physical connector and cables with a contactless data transmission, the Co60ETH kit offers reliability, flexibility and more robust designs for various industrial ethernet applications, including point-to-point communication, automation or video transmission.
The Co60ETH demonstrator kit is a RF millimeter-wave transceiver module operating at 60GHz. The modules are plug and play contactless connectors that provide high-speed data transfer for short range up to 1Gbps. With this contactless technology, board-to-board cables can be removed and multiple devices can be connected.
The Co60ETH kit helps engineers challenge their product design by eliminating the need for physical cables and connectors in point-to-point communications to lead automated factories into the next generation.
To learn more about our new Co60ETH kit, schedule a virtual meeting with a Radiall expert today.