Q&A With Carmen
Carmen joined the Supply Chain Management department at Radiall Obregon in 2007. After holding various positions, she joined the US SAP as a key user. She was subsequently appointed as the Logistic Execution Project Manager at the Centr'Alp site to work on the SAP Europe project before relocating to China as part of the SAP Asia project.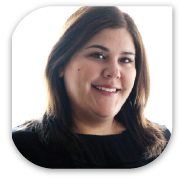 Q.Can you tell us more about your current role?
A.At the Radiall Shanghai site, we have a room dedicated to the SAP project, in which I clearly spend most of my time! Key users and consultants meet there to prepare the migration scheduled for April 2018. We're currently at the integration testing phase. We are replicating our global flows into SAP to validate the various configurations and are reviewing the issues that emerge as tests are carried out. We adjust settings and check that our team implements the correct solutions. We also focus on the uncertainties and misunderstandings that arise in order to ultimately obtain the solutions that best meet user requirements.
Q.You have been in China for a few months now. Can you tell us about your experience so far?
A.My first weeks in China weren't the easiest, even if relocating from one country to another is becoming routine to me. [Laughing] You need to familiarize yourself with a new culture, new customs. I found a few things surprising when I arrived, especially the responsiveness displayed by my colleagues when they encounter a challenge. Patience and perseverance are really ingrained in their culture; they never lose sight of the goal they are trying to achieve, which is very inspiring. What I enjoy most is the feeling that we all share the same goal, a feeling that fuels team spirit every day.
Q.What do you think is at stake with the SAP project?
A.I firmly believe that customer satisfaction requires flawless coordination and communication between our sites. And SAP projects contribute to it, whether they are implemented in the US region, France, Europe or now Asia. Once Go-Live Asia is implemented, three of our Asian sites will be sharing the same processes and requirements, whereas today their work practices vary due to their specific cultural characteristics. This in itself is a great challenge!
Q.What do you like most about your work?
A.Even though we work in a company with a high technological potential, what drives me are the relationships I build with my colleagues, irrespective of the country! I'm glad to have had the opportunity to develop this international streak through my various experiences in Obregon, Centr'Alp, and now Shanghai. Sharing ideas, discussing our experiences, irrespective of our culture of origin ... There's always a wealth of things to learn and they will endlessly enrich our lives!