Cable Assembly Builder
CAB is a cable assembly configurator that provides access to a large number of Radiall cables and connectors. This powerful application not only allows users to select the components they need, but it also builds custom documentation that calculates cable assembly performances at given frequencies. The technical data issued is based on the specifications you choose.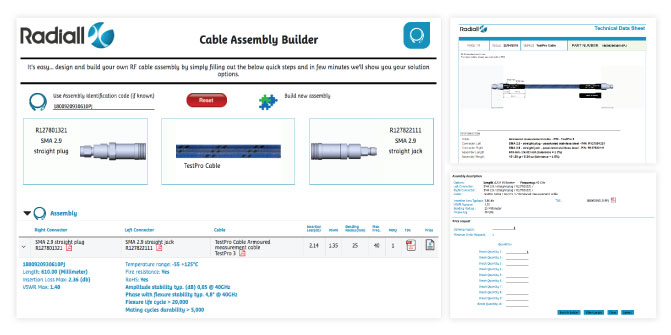 Go to the new Cable Assembly Builder
FEATURES
Identify PN configuration and TDS
Choose connectors and cable for assemblies
Select connector using series and model filters
Select cable using type filter (flexible, semi-rigid, etc.)
Calculate cable assembly performance (Loss, VSWR, etc.)
Build custom cable assembly TDS
Send RFQ
Note: CAB uses a combinatorial algorithm so that proposed components are permanently filtered by compatibility with already selected ones. Consequently, users can make selections in any sequence.
NEW FEATURES
Improved navigation
ASIC error indicator
Connector and cable PN search field
Custom labeling
Change length on given configuration
Price requests up to 10 slots