C-MTitan's™ Quick Disconnect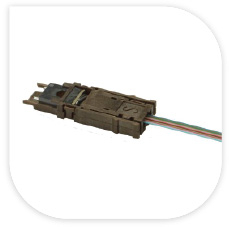 How does C-MTitan™ simplify maintenance?
The C-MTitan™ series of products is located within equipment boxes, and helps provide a complete optical link from the active device to the ship side harness. In terms of maintenance, having a disconnect between the active device and the contact exiting the box will not only save time and money during replacement, but will allow the active component to be salvaged. Couple this with the tool less insertion/extraction functionality of the C-MTitan™ cartridge into the various adapter options or connectors, and your equipment will be back up and running in no time.
Why is it relevant to the current market?
C-MTitan™ provides the user with a ruggedized high density fiber optic interconnect that is equipped for both aerospace and military markets. Today, both market segments are feeling the pressure of providing more bandwidth, while maintaining a small footprint. This typically means requiring the use of higher performing transceivers, such as D-Lightsys® active optics, which ideally would be salvaged during maintenance. Including a C-MTitan™ disconnect between the transceiver and the contact exiting the box allows replacement of a simple patch cord instead of replacing the premium active device.
How does it work?
The assembly of the C-MTitan™ consists of a mechanical transfer (MT) ferrule that is incorporated within a protective cartridge, and is compatible with 12-24 ribbon fibers. The scoop proof design is enhanced by a dual alignment system created from the cartridge containing pre-alignment guides, in addition to the MT ferrule having alignment pins. Insertion/extraction is done through compression of the locking tabs; therefore, no tools are required!
Disconnect functionality can be achieved in several ways. At the board level, PCB adapters can easily be incorporated to create an in-line disconnect. Backplane applications can utilize Radiall's Vita 66.1 type connector for blind mating and quick installation. Development is also being conducted with popular multipin connectors, such as the EPX (EN4644) series, to include multiple C-MTitan™ contacts within the same insert cavity.
How does it help engineers?
The innovation of the C-MTitan™ range further extends Radiall's capability to provide customers with fiber optic end-to-end solutions. The benefit will quickly be realized when the need for higher bandwidth is demanded as this series provides installers and maintenance personnel routing options that were not previously available. Gaining the ability to use MT technology that was created for less harsh environments and incorporating it within today's aerospace/military equipment is considered a "game changer" for many.
APPLICATIONS:
Aerospace & other harsh environments
High density interconnect inside equipment boxes
Backplane applications
In-Flight Entertainment (IFE)
Cockpit Displays
Radars