KVBS Bayonet Connectors with Thermoplastic Resin Insert for Railway Applications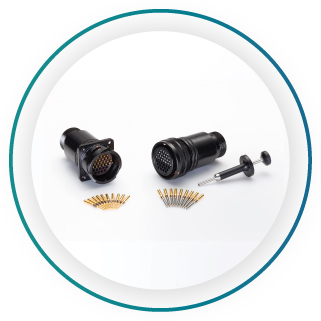 At Radiall, Simplification is our Innovation.

The KVBS series, derived from MIL-DTL-5015 and VG95234 specs, has become a popular standard among railway connection applications. The bayonet circular connectors in this series feature rigid thermoplastic inserts, retention springs on contacts and reduced wiring time.
VanSystem's KVBS series of circular bayonet connectors includes 11 connector arrangements. The connectors utilize a retention contact system for simpler and faster cable assembly and easy insertion and removal. The size 16 contact cavity has a wider internal diameter that can accept flame-retardant cables up to 2.5 mm². Additionally, all components are flame retardant according to EN 45545-2 HL3 R22/23. The inserts are composed of a halogen-free thermoplastic material according to UL 94 V0, resulting in a very low fire hazard.
The coupling point at the end of the ramp is protected by a stainless steel roller that increases the number of mating cycles. The connector's interfacial seal guarantees sealed mating over the entire interface and around each contact.
KVBS connectors are available in crimp, machined copper alloys and finished with gold or silver plating. All contacts are manufactured to guarantee optimum connection properties, resist vibration and provide continuous mating and unmating cycles.
FEATURED BENEFITS
Robust connection
- Fully protected connectors
- Grounding finger, conductive plating and proper rear accessories
- Suitable for polarizations to prevent uncoupling
Easy installation
- Fast and reliable coupling
- Backshell and accessories for fastening cable
Suitable for harsh environments up to IP68 when mated
- Waterproof
- Dustproof
- Corrosion resistant
High level of performance
- Working temperature of -40°C to 125°C
- EMI protection with grounding finger
- Power connection up to 73 A
Meets NF F 16-101/NF F 16-102 standards
Learn more about VanSystem KVBS circular bayonet connectors.