Value-added Optical Assemblies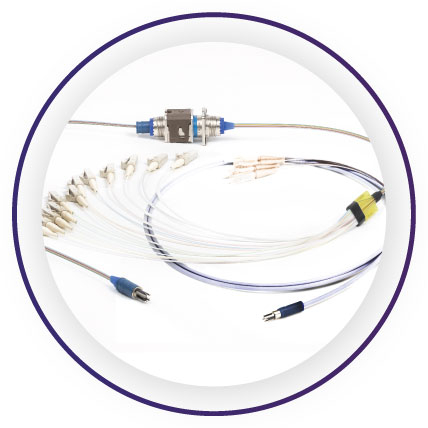 At Radiall, Simplification is our Innovation.
Radiall is a global leader in the design, manufacturing and delivery of value-added optical assemblies. Our complete product offer includes high-speed active components, optical contacts and ruggedized connectors.
We support our customers by offering and delivering standard configurations and built-to-print or custom end-to-end solutions:
D-Lightsys® transceivers that end the optical link at the board level and convert electrical signals to optical ones and vice-versa
Simplex assemblies with LuxCis® ARINC 801, ABS1379, LC, etc.
Multi-channel assemblies with MT-based interconnect solutions such as Q-MTitan™ ARINC 846 and C-MTitan™
Expanded Beam assemblies with EB-LuxCis for airborne applications and ExoBeam connectors for field-deployable configurations
Mixed electrical and optical harnesses and hermetic solutions
Our solutions can be used in various applications, such as inside-the-box, outside-the-box and with ground harnesses. They are also suited for a variety of markets including air, land, sea and space.
FEATURED BENEFITS
Built-to-print assemblies or custom designs based on application requirements
High quality, ruggedized and space-optimized solutions
High-speed connectivity
Size and weight optimization
Increased bandwidth
Easy installation and deployment