50 GHz Attenuators For Test & Measurement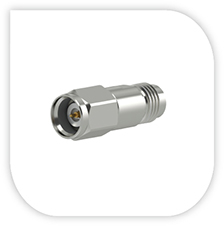 At Radiall, Simplification is our Innovation.

Combining experience in RF instrumentation with market demands for radio frequency equipment reaching over 40 GHz, Radiall developed a range of attenuators equipped with 2.4mm connectors that can reach 50 GHz. This new range is perfectly suited for equipment requiring high RF performance.
With demands for the Test & Measurement market increasing and customers requiring attenuators with performance over 40 GHz, Radiall designed a new range of 50 GHz coaxial attenuators equipped with 2.4mm connectors.
The high radio frequency performance of this offer makes it superior to the competition in all aspects. With exceptional VSWR performance (VSWR 1.65 at 50 GHz) and attenuation accuracy as low as 0.7 dB at 50 GHz , this solution is ideal when superior performance is essential.
The complete range of attenuators is 0.86 inches long making it the smallest form factor available for this range of frequency.
Benefits:
Exceptional VSWR performance
Excellent stability in attenuation precision
53 GHz reachable for 5G Test & Measurement
Power up to 1W
Very small form factor: 0.86 inch length even for the 30 dB version