Space Coaxial Very High Power TNC Connectors
The use of large scale solutions with our technology in the space industry is simply inspiring.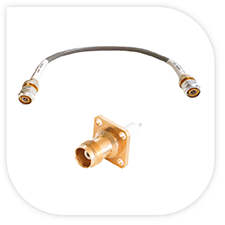 High power solution for space applications
The space market requires equipment that resists high power and offers better performance. In order to meet the demands, Radiall developed and qualified a new range of space coaxial TNC Very High Power connectors, in collaboration with the CNES and the ESA.
High power RF and microwave applications usually require rectangular waveguide interconnect solutions. However, waveguides are more expensive, difficult to integrate in the end user equipment, and feature much smaller bandwidth compared to coaxial technology.
The new Very High Power Coaxial connectors made by Radiall now enable the use of coaxial technology in high power applications.
Radiall offers 15 variants of space grade coaxial Very High Power connectors with a TNC interface. The range includes variants for SHF8MS flexible cables and .250" semi-rigid cables, adaptors, connectors for equipment and one hermetic adapter for thermal vacuum chamber.
These new connectors complement Radiall's existing range of space grade connectors and are the perfect solution for applications where high power and reliability are required.
Features and benefit of Radiall's Very High Power TNC connectors:
Reduction of global costs compared with waveguide solutions
Easier to integrate in equipment than waveguide
Power performance defined at 100°C, in space vacuum
No multipactor breakdown (tested at hot and cold temperatures)
Fully qualified by ESA
Compatible with TNC series, with higher RF power performance
The innovative patented design designed by our expert engineers, allows us to offer customers a complete range of connectors and cable assemblies for high power applications, from ground testing to flight.