Deployable Expanded Beam Interconnect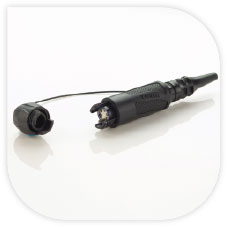 At Radiall, Simplification is our Innovation.

ExoBeam is Radiall's new Fiber Optic solution for deploying communication links in highly contaminated environments. With its hermaphroditic and robust design, ExoBeam connectors enable quick and high number of mating in the field.
ExoBeam offers a reliable, non-contact Fiber Optic connection that can be easily cleaned and is more durable than connectors utilizing physical contact technology. The robust connector housing is designed to MIL-DTL-83526/20 and /21 standards and is ideal for deploying in the field.
Expanded beam technology uses precision lenses to expand, collimate, and then refocus the light between two fiber cores.

The mated fiber optic connection is contactless, significantly reducing wear of the optical fibers in high mating applications. The sealed optical interface can be easily cleaned when exposed to fluid, mud or dust. Should any debris remain on the lens, the expanded optical transmission is less sensitive to the contaminant, and then makes ExoBeam ideal for use in highly contaminated environments.
Main performance:
Typical Insertion Loss: 1dB
Return Loss: >34dB on SM
Operating Temperature: -40°C to 85°C
Mating durability: 3000 cycles
Available in 2 or 4 channels, SM and MM, tactical cable assemblies will be delivered in reels to simplify the installation.