A Breakthrough For Optical Transceivers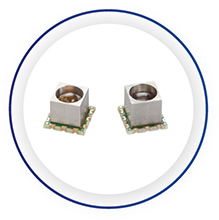 At Radiall, Simplification is our Innovation.

F-Light is a high-speed, fiber-free, datacom solution made of field-proven D-Lightsys® range components. The unique design is suitable for Board-to-Board or device-to-device communication set-ups and provides a new interconnect architecture concept to electronic designers.
The standard F-Light configuration is made of one transmitter and one receiver, set on each of the two devices and connected through an SMT electrical interface. The standard configuration enables a working distance of 15 mm with a misalignment tolerance of +/- 1 mm and +/- 1.5° in any direction. This flexibility means no adjustment is required between the transmitter and the receiver, making F-Light specially suitable for data transfer from docking systems to mobile equipment or between blade board setups. The free-space link enables data transmission through windows to allow communication in hermetic environments.
HIGH PERFORMANCE
F-Light handles data rate transmission from 100 Mbps to 5 Gbps over a wide range of protocols (ARINC 804, Gigabit Ethernet, etc).
F-Light works at 850 nm and is a class 1 laser system, compliant with ocular security operations.
RUGGED SOLUTION
F-Light can operate from -40 °C to 90 °C and is compliant with shock, vibration and humidity requirements for military applications.